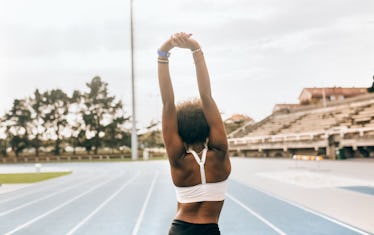 These Fitness Experts Have The Perfect Advice If You Always Feel Awkward At The Gym
Who hasn't been in the gym and felt totally out of place? There are so many machines, so many strangers looking serious and sweaty, and so many personal trainers who you're positive are side-eyeing your form. Well, same, girl. Being a beginner at the gym (or heck, just continuing to feel #uncomfies exercising in public, even if you've been doing it for a while) is totally normal. Exercise is kind of a personal thing, you know? But rest assured, figuring out how to feel less awkward at the gym is totally doable, and will probably make your experience pumping iron and doing your thing on the elliptical all the more enjoyable.
According to personal trainer Matt Weik, of Weik Fitness, LLC, the less you focus on others, and the more you focus on yourself, the better off you'll be overall. "Your workouts are a time to focus on your health and fitness," Weik tells Elite Daily. And the whole point is that the experience should be enjoyable for you, or at the very least, comfortable enough that you don't leave early out of sheer awkwardness.
It's a serious struggle to feel like the "odd exerciser out" at the gym, but you can breathe a sigh of relief, because Elite Daily spoke with a few different experts who've got you covered and can make the whole experience a total breeze. Here's how to feel more comfortable at the gym if it's usually awkward AF for you.