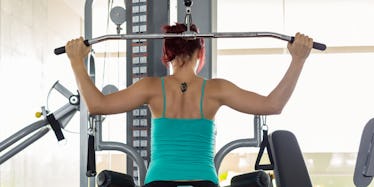 5 Tips For Using Workout Machines At The Gym If You're Intimidated AF By Them
If you walk into the gym and automatically feel like there's a magnetizing energy force pulling you toward the elliptical, I feel you, fam. TBH, a lot of the other workout machines in the gym kind of look like distant cousins of Transformers, and I know I personally used to avoid them at all costs. But, once you get more familiar with how to use workout machines at the gym, you'll be able to file a friendly divorce with the trusty elliptical, and conquer your fear of the awesome, (albeit robot-esque) muscle-sculpting machines your gym has to offer.
Seriously though, I used to fantasize about hopping on the leg press, or making the Smith machine my b*tch. It was especially tricky in college, and the iron-clad area of the gym was populated with well-trained athletes and experienced body builders, so the chances of my lanky and intimidated self sauntering over to the mystifying machines were slim to none.
But the day I decided to break up with my usual "safe" machines, and begin to navigate the "scarier" machines, was the day I realized that the nerves were actually all in my head.
Here are five tips to make those seemingly mysterious gym contraptions way less complicated, and help you ditch your familiar and safe cardio machines once and for all.