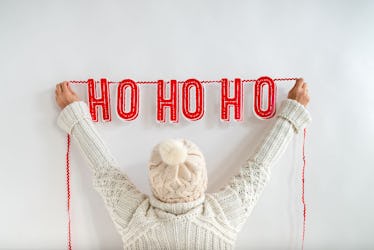 Experts Reveal How To Cope If Your Period Arrives Just In Time For The Holidays
Mother Nature has impeccable timing, doesn't she? For example, remember that one time you and your squad strategically planned the most epic Memorial Day weekend around your cycles, only for your period to arrive late that month — and by late, I mean on the car ride down the shore? Sometimes these things truly happen by coincidence; other times your period just happens to overlap with the most wonderful times of the year, like the holiday season, and you just have to deal. Navigating how to enjoy the holidays on your period can be tough because, while you'd love nothing more than to visit with your family for Christmas, or get all dressed up for New Year's Eve, your body's practically begging you to stay in pajamas all day and eat gingerbread cookies straight off the platter. It's PMS with a festive twist, for sure, but it's still not the same.
Personally, I've never experienced a Christmas that overlapped with my cycle, but I have endured Mother Nature on many a Fourth of July celebration. As crappy as I felt, though, lying poolside over taking a dip wasn't the end of the world. Obviously summer holidays and the winter wonderland that is Christmahanakwanzika are two completely different scenarios, but I know for a fact that, if your ~special~ time of the month arrives just in time for this holiday season, you can still enjoy the most wonderful time of the year regardless.
Granted, I understand it's probably easier said than done, especially if you're experiencing some tough symptoms, but according to a few experts in the space, it's possible to get through the holiday season with a smile on your face, even if you're enduring a rough menstrual cycle. Here's how you can get through it.