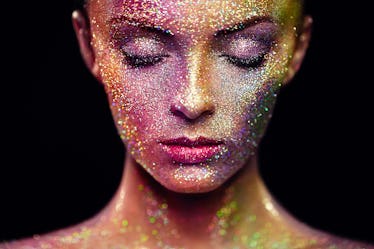 Here's How To Channel The Moon & Stars For Your *Otherworldly* Halloween Costume
Halloween is fast-approaching, and if you're a procrastinator like me, you're probably still looking for some costume inspo before the big day. You likely don't want to rock your last-minute cat or witch costume again this year, because that's so been done before. So, if you're a starry-eyed astrology lover, you might want to consider a costume that's out of this world. With not much time left, you're wondering how to dress up like the moon and stars on Halloween.
Don't fret, because I've got you covered. You don't need to race off to your nearest costume store for a generic outfit in a bag. With these six items, you can have a space-worthy costume that you'd want to wear on all the other days of the year. This also works if you scored a last-minute invite to a Halloween party, and want a cool outfit, but don't want to spoil the costume you've been saving for Oct. 31. You'll be able to walk into your party and look totally Instagram-worthy.
It's great to buy a Halloween costume that isn't just for one use. Sure, you're a star or moon on All Hallows' Eve, but for the rest of the year, you can shine bright with these items, too. So, make sure to take a costume selfie and caption it with, "I'm out of this world."