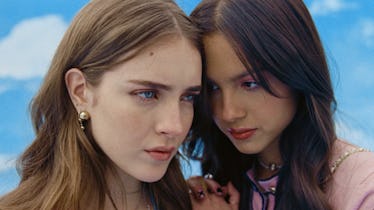 TikTokers Like Charli & Addison Are Hopping On This "Deja Vu"-Inspired Challenge
Olivia Rodrigo has turned out another hit with her latest single, and it really does feel like "deja vu." After "drivers license" was released, you couldn't scroll on TikTok without coming across the song. Now, "deja vu" is almost just as popular, and there's even a challenge to go along with it. It's trending so much that big creators like Charli D'Amelio and Addison Rae Easterling are also trying it out. If you want to get in on the fun as well, you'll need to know how to do Olivia Rodrigo's "deja vu" TikTok challenge.
Unlike the "drivers license" challenge that required some cuts and outfit changes, all you need in order to complete the "deja vu" challenge are the following:
It's that simple. Using the filter while recording, tap the screen to switch the image back and forth while lip-syncing. It creates this déjà vu feeling the more you look at it. Some TikTokers are even doing this challenge with their friends, which really morphs your images together. You end up looking the same, which really ties into the "deja vu" music video, where Rodrigo's character starts dressing up and doing the same thing as another girl — presumably her ex's new girlfriend. If you want to do Olivia Rodrigo's "deja vu" challenge on TikTok, you might want to check out these eight videos for inspiration first.