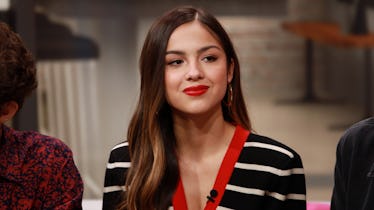 Olivia Rodrigo's "Driver's License" Is TikTok's Best New Song Challenge
Jason Mendez/Getty Images Entertainment/Getty Images
Raise your hand if you spent this past weekend listening to Olivia Rodrigo's new song "Driver's License" on repeat. Judging by how many videos have shown up on your TikTok "For You" page featuring the tear-jerking ballad, you're not the only one. The single has everyone scream-singing and tearing up in the their bedroom, which is just what you need to do for Olivia Rodrigo's "Driver's License" challenge on TikTok. Not only do you get to show off your acting and dramatic lip syncing skills with this challenge, but there's an impressive transition, too.
The challenge is actually inspired by Rodrigo's "Driver's License" music video, and it's kind of similar to the Euphoria makeup TikTok trend. In the video, Rodrigo falls backwards out of camera right before the bridge drops in the song. It then cuts to her laying out on the hood on a car with the wind blowing through her hair. It's a powerful moment, and now is your chance to do it as well with the "Driver's License" challenge on TikTok.
Unlike Rodrigo's music video, you don't need a car. The whole video can actually be shot in your bedroom and edited through TikTok. It's fairly simple. You just need to check out a few "Driver's License" TikTok challenge videos for inspiration.