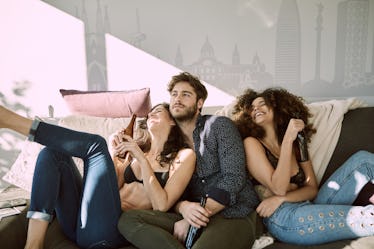 Here's How To Deal If You Can't Stand Your Roommate Being Friends With Your Friends
When people from different parts of your life meet and form their own relationships with one another, it can feel a bit weird, even if it seems like that should be a good thing. Be it tinges of jealousy for their newfound friendships, or the sometimes arduous process of navigating new boundaries, these circumstances tend to make you feel all the feels. And yes, this can even happen in your very own living situation, when your new roommates and your pals meet and really hit it off. But learning how to deal with your roommates becoming friends with your friends is not impossible. It just takes a little bit of understanding on your part, and some good ol', healthy communication skills from everyone involved.
Above all, it's important to not be too hard on yourself for feeling weird about these newfound friendships. Trust me, I've experienced this in a variety of ways: I've dealt with having a crush on a roommate who seemed more interested in pursuing my friends than me. I've been low-key annoyed to come home and find my bestie hanging out in my living room when I wasn't the one who invited her there. And yes, I've been on the other side of this struggle, too, where I'm the one who gets close with one of my roommate's friends, and they get a little salty over it.
In the end, though, I got through all of these situations — admittedly, with varying degrees of emotional messiness. But hey, if I can do it, you can too, especially with the advice of some experts. Here's how you can handle those weird feels when worlds collide, and your roommates start becoming friends with your friends.