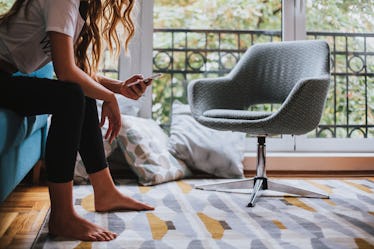 Science Says Some People Struggle With FOMO More Than Others, So Here's How To Cope
It's a Saturday night at the beginning of spring, and the weather outside has finally started warming up. Your best friend is throwing what's expected to be the rager of the season, but the plans were spontaneous, and you already had babysitting duties on your calendar. Once the kid goes to sleep, you'll inevitably find yourself searching the party's hashtag on Instagram, bitterly liking each photo while you're left to rot in the corner of your sister's couch, watching a rerun of Friends, feeling like you have none. Figuring out how to deal with FOMO can feel borderline impossible when you're in the heat of the moment, and having unlimited access to social media doesn't exactly help the situation. So when you can't be in two places at once, how do you suppress the irritable gut feeling that you're missing out on something epic?
Tempting as it may be to place all the blame on social media, though, your Instagram and Facebook feeds are only a fraction of the problem. According to a recent study performed by researchers at Carleton and McGill Universities in Canada, it doesn't really matter how word gets around about a party or social event you missed out on; whether you hear about Beyoncé's performance at Coachella from a friend's Snapchat story or a stranger's blog, Business Insider reports it all produces "the same amount of FOMO."
FOMO can stem from literally anywhere, but the question is, why? Why are you and I so concerned about not having been at that party, concert, or Sunday brunch with the squad? According to research uncovered by marketing communications company, James Walter Thompson, FOMO is trigged by a personal lack of satisfaction with your own social life. Long story short, if you already feel kind of meh about your plans for Friday night, catching Becky with the good hair snapping a pic with your peeps without you is still going to make you a little salty.
It sucks, sure, but FOMO doesn't have to sting as much as you let it. Here's how to cope with that deep-rooted fear of missing out when your friends are MIA because, the truth is, doing your own thing isn't so bad.