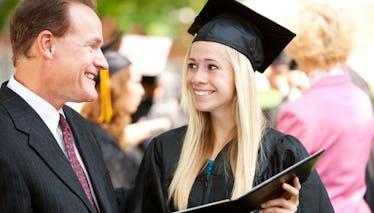 How To Deal With Divorced Parents On Graduation Day, Because It's Not Always Easy
Having divorced parents is no picnic. Finishing college is no picnic. So, if you're about to graduate and your parents are divorced, it's pretty normal to be feeling stressed about graduation day, especially if your parents don't get along. You're culminating a however-many-years-long journey of grueling tests and classes, so you deserve to be carefree and in-the-moment on the day you worked so hard for. You shouldn't have to worry about how to deal with divorced parents on graduation day, but if you find yourself in that incredibly uncomfortable position, fear not! It is possible to walk across the stage without worrying about whether or not your parents are in the audience recreating WrestleMania!
First off, it's important to note that making sure your parents get along is not your job to begin with. As someone who's experienced it first hand, your parents' divorce is their issue, not yours. They're adults who can figure out how to deal with each other on their own. And if it's your graduation day, and both of your parents know how important it is to you, they should be able to agree to be friendly so that all eyes are on you. Positive vibes only, y'all!
The last thing you need, want, or deserve is to have this momentous occasion tarnished by attitude and bad behavior. Hopefully you won't need to, but if your parents' relationship is irreconcilable, take the following steps if you think it will help graduation run smoothly.