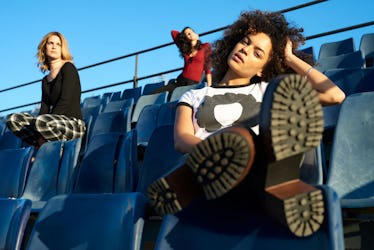 How To Ask For More Consideration From Your SO, According To 9 Women
Relationships take work to maintain. Sometimes, even if things are going great, you can step on each other's toes without meaning to. If you're feeling like you need to bring up something that's been bugging you, it's totally within your right to do so. But TBH, opening up can be super intimidating. Figuring out how to ask for more consideration from your partner is complicated and delicate, but remember that you deserve to present your needs honestly and directly.
There are many advantages to airing out something that has been bothering you. For one, it can be easy to forget that you are always learning about each other and how you work together in a relationship. "Even the best relationship can have difficult times — every relationship has serious problems, concerns and even crises," Joshua Klapow, Ph.D., clinical psychologist and host of The Kurre and Klapow Show, tells Elite Daily. "Communication is the key to keeping a relationship healthy. Talking about more than the daily tasks. Talking about the larger topics respect, honor, love, dreams, fears, concerns."
If something is bothering you in your relationship, take a cue from the following nine women and consider saying something that puts your concerns out on the table.