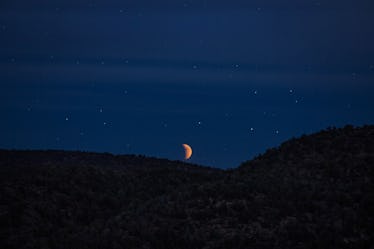 The Lunar Eclipse May Do Some Weird Stuff To Your Body, So Here's How To Prepare
For as long as there has been a moon, there have been stories about the effects of that beautiful glowing orb on us humans. Undoubtedly, lunar eclipses have their own chapter in terms of these myths and explanations. Some have claimed a lunar eclipse was the result of a jaguar stealing the moon, for example. Scientifically speaking, though, a lunar eclipse happens when the moon passes behind the Earth into its shadow. It's all super fascinating, but you'd be lying if you said you never stopped to think about how the lunar eclipse affects your body.
First of all, I have to be honest with you and say upfront that there's not a ton of scientific evidence out there that suggests the lunar eclipse has any impact on your body. There are, however, plenty of anecdotal claims, folk stories, and pseudoscientific theories. And, interestingly enough, while science might not be fully behind the lunar eclipse's effect on your body, even NASA gets behind the idea that it might have some impact on your psyche. It says, and I quote, that "eclipses have always been capable of producing profound psychological effects." So, do with that what you will.
If you're gearing up for the blood moon (aka the creepier way to refer to the lunar eclipse) coming up at the end of January, take a look at how some believe it might affect your body.