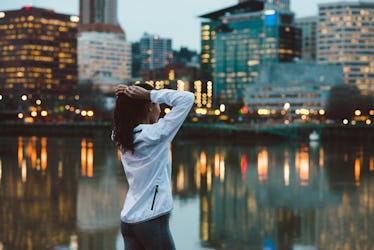 5 Things To Know About How Stress Really Affects Your Workout & Your Motivation
Many people use exercise as a way to cope with the inevitable stress that comes with, well, being human. And while pounding the pavement or heading to the weight room is an amazing way to blow off steam, it might actually be doing more harm than good when your body is already under loads of pressure after a sh*tty day. If you've ever had a totally mediocre and unsatisfying workout because of mental pressure or anxiety, and you're wondering how stress affects your workout, you're not alone. Stress is truly a force to be reckoned with.
According to Mayo Clinic, even the most mild stress can affect your entire body, both mentally and physically. From ultra tight muscles, to a screwed up sleep schedule, to the inability to quiet a racing mind, stress can be extremely taxing and difficult to manage.
While you might be tempted — and rightfully so — to "sweat it out" in the hope that your perspiration sheds away all your existing anxiety with it, unfortunately, a killer HIIT circuit won't always be the cure to a stressful day.
The next time stress is totally squashing all your motivation to hit the gym, but you feel the need to push yourself to work out anyway, it might be useful to know how stress actually affects your workout, so that you can opt for a more soothing form of exercise that won't aggravate your already beaten-down body. Here are a few key things to know about what stress can do to your workout and your motivation to move your body.