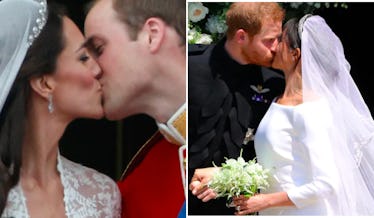 How Harry & Meghan's Wedding Body Language In 2018 Differs From Will & Kate's In 2011
CHRISTOPHER FURLONG/GETTY IMAGES ENTERTAINMENT/GETTY IMAGES + WPA POOL/GETTY IMAGES ENTERTAINMENT/GETTY IMAGES
On April 29, 2011, the world watched as Prince William and Kate Middleton exchanged vows at Westminster Abbey in London. This past Saturday — seven years after Kate donned that iconic Alexander McQueen gown and she and Will became the Duke and Duchess of Cambridge — it was Prince Harry's turn. He and American angel Meghan Markle tied the knot at St. George's Chapel in Windsor, just outside of the British capital. And, while both ceremonies were touching and both couples looked overjoyed in their own ways, Prince Harry and Meghan Markle's wedding body language is quite a bit different than that of William and Kate's.
But you don't have to take my word for it — I brought in the pros to do a little comparing and contrasting. Elite Daily spoke with body language experts Tonya Reiman, Patti Wood, and Blanca Cobb to uncover what each set of newlyweds' actions revealed about their thoughts and feelings on the big day — about the cheering crowds, their new spouses, and the significance of this historical moment (for themselves and for the world).
Both couples shared adorably quick kisses and even more adorable, telling glances with one another. But that's just the beginning. Here's a look at exactly how Harry and Meghan's newlywed body language in 2018 differs from William and Kate's back in 2011 — plus what their physical cues reveal about their relationships.