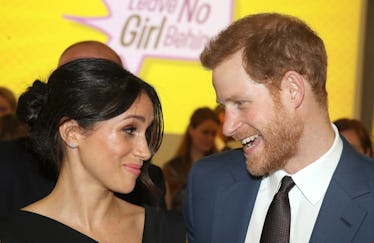 Prince Harry & Meghan Markle's Recent Body Language Shows They're Closer Than Ever
Chris Jackson/Getty Images Entertainment/Getty Images
Is it weird that I have a huge couple crush on Meghan Markle and Prince Harry? They're pretty much the definition of couple goals. They're super hot, obviously in love, but most amazing of all, with under a month left before their May 19 wedding, they're still out pursuing their shared passion of championing human rights and the empowerment of women and girls. Yeah, I'm pretty much in love with these two. Their latest public appearance, the Women's Empowerment Reception, gives us another peek at Prince Harry and Meghan Markle's body language in the lead-up to their wedding.
If you aren't fully sold on Harry and Meghan, let me tell you a little bit more about the event they attended. Brace for swooning. The goal of the reception was to promote women's empowerment and girls' education. In particular, finding ways to ensure more girls were able to get into schools and stay there. It was the perfect event for the couple, who are dedicated to human rights advocacy. Before meeting Harry, Meghan was an advocate for UN Women and worked on women's rights issues with World Vision, the Myna Mahila Foundation, One Young World, and Code Camp. How hot is that?
While the headline is really the good works this duo is doing, we just can't help but take advantage of every one of their public appearances to see what we can learn about their dynamic. To help decode their body language, we reached out to body language expert Patti Wood, author of Snap: Making the Most of First Impressions, Body Language, and Charisma. Here's what she sees.