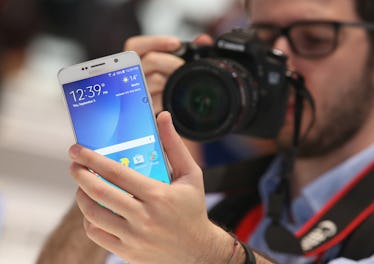 This How Much The Galaxy Note 9 Will Cost You, So Start Saving Up
Sean Gallup/Getty Images News/Getty Images
On Thursday, Aug. 9, Samsung finally unveiled its highly-anticipated Galaxy Note 9 phone at an event in New York and confirmed a host of rumored new features. With the Android phone now boasting a new Bixby assistant, a smarter Bluetooth S Pen, a bigger battery, more storage space, and an upgraded camera, just to name a few updates, you're probably wondering how much Samsung's Galaxy Note 9 will cost you. Get ready to drop some serious cheddar when the Galaxy Note 9 goes on sale, because the new Android is set to be the most expensive smartphone ever mass-sold on the market.
During the live-streamed Unpacked event in New York City on Thursday, Samsung revealed that the Galaxy Note 9 will ring in at $999 for a 128-GB phone and $1249 for the 512-GB device, per the Samsung website. Previously, a possible price was revealed in a series of tweets first shared by WinFuture's Roland Quandt on Tuesday, Aug. 7. He posted that the smartphone will cost £899, which translates to $1,165, for a 128-GB size model, or £1,099 (or $1,420) for a 512GB version. Other numbers from Tech Radar put the Galaxy Note 9 at $940 for 128-GB model and $1,220 for 512 GB. Not only would this be Samsung's most costly phone to date, but it would also outpace other competitors like iPhone X, which costs anywhere from $999 to $1,149.
That being said, Samsung's Galaxy Note 9 does come with a few features that iOS users aren't privy to. For one, the storage space and the battery life is unprecedented.
On Wednesday, Aug. 8, Samsung Chile previously leaked a few details in a blog post. While they didn't specify the exact battery life of the new phone, The company shared that users would be able to comfortably be on their phones all day without needing to re-charge, which, as a big Instagram user, is something I definitely wouldn't mind. In addition, the storage space capabilities that the smartphone offers isn't currently offered by other companies. To put things into perspective, Apple currently is selling a 256GB storage option, which is only half the capacity of the 512GB Galaxy Note 9. In other words, you have a lot more space to take photos, to download apps, and to play games on your phone.
Plus, you'll be able to get exactly the aesthetic you want when you chose from the four available colors: Ocean Blue, Lavender Purple, Metallic Copper, and Midnight Black. Although, you should beware that only certain colors are available in the United States.
I'll be the first to admit that the new Samsung Galaxy Note 9's hefty price tag might be a deterrent for customers hoping to upgrade or make the switch from other systems. However, if you're in the market for an "all day" battery life and the kind of storage you won't find in any another smartphone and are willing to pay a few more hundred dollars for that, it might be worth weighing the pros and cons to see if the Galaxy Note 9 makes sense for you and your lifestyle.