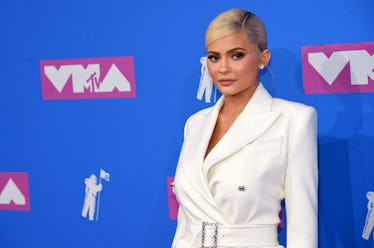 Kylie Jenner Just Honored Baby Stormi In The Priciest Way Possible
Jamie McCarthy/Getty Images Entertainment/Getty Images
There's literally no one in the universe that will deny that babies are expensive. The cost of diapers, doctor visits, and onesies (used approximately three times before the little nugget grows out of it) start adding up real quick. But if you're Kylie Jenner, none of that really matters (it's a small perk for being an almost billionaire, I guess). So for her daughter, Stormi, the sky is the limit. And to honor her adorable 7-month-old, Kylie Jenner has recently flashed some new bling on her fingers: a set of five rings that spell out "STORM." They're obviously gorgeous, but how much do Kylie Jenner's "Stormi" rings cost? Let's just say that for Jenner, it's practically chump change. For the rest of us regular humans, they're expensive AF.
The Keeping Up With The Kardashians star and beauty mogul took to Snapchat on Wednesday, Sept. 26, to showcase her new set of gold rings that are a tribute to her daughter. According to E! News, the five individual rings that spell out "STORM" were designed by XIV Karats, a Beverly Hills-based jewelry designer, and each piece ranges from $600-$900. Yes, each — meaning Kylie Jenner spent a minimum of $4,500 on her newest set of baubles. Elite Daily has reached out Jenner's team for confirmation on the cost of the rings, but has not heard back by the time of publication.
In Jenner's video, we see her getting makeup done while petting her dog, Lady (in a weirdly villainous sort of way, I might add). The angle of the video showcases the gold accessories on her fingers, and you can clearly see the S, T, O, and R, which can only mean that the M is located on her thumb:
Look, those rings are beyond gorgeous. Is the price tag excessive? Absolutely. But if I had a daughter and $4,500 to spare, would I, myself, invest in these rings? You bet your ass I would.
With all that bling on her finger, many are wondering if there would even be room for an engagement ring from boyfriend Travis Scott — if, ya know, that was something that might be in the works for these two. Just last month, the pair were seen jewelry shopping together in Calabasas, where a source told E! News that they purchased "a couple items" before holding hands and exiting the store.
Perhaps one of those items was a ring of a different kind?
According to a source, it might not be too out of the question for the couple. "Kylie and Travis have definitely discussed getting married and she has expressed what type of ring she would want Travis to buy her," the source revealed. "It would definitely be over the top. They are not engaged right now but have talked about it, and it's only a matter of time."
I mean, they have been dating for well over a year now and have an absurdly adorable daughter together, so marriage could be the next step for these two. That, or getting a set of "KYLIE" and "TRAVI" rings. It's a damn shame that Travis has six letters, isn't it?