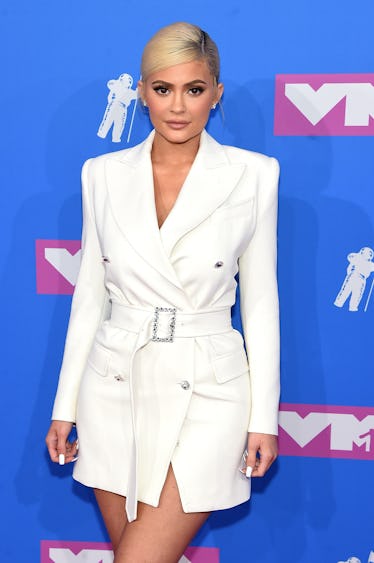 Kylie Jenner Posted The Cutest Photos Of Baby Stormi Watching Her Get Her Makeup Done
Jamie McCarthy/Getty Images Entertainment/Getty Images
It's a scientific fact that Kylie Jenner is pretty much the queen of makeup. Yes, she has her very own beauty line, but it's also because her own makeup always looks so incredibly fierce. Whether she's rocking a bold lip or a killer cat eye (and absurdly precise eyebrows always), it's clear that her daughter Stormi has a pretty good beauty role model. Even though Stormi is just a baby, she's apparently already taking notes, and Kylie Jenner's video of Stormi watching her get her makeup done is literally the cutest thing you'll see all day.
Let me first take a moment to say how much I appreciate Kylie Jenner sharing photos and videos of Stormi once more. There was a time not too long ago when she deleted all of Stormi's pics, and fans became pretty concerned.
When fans noticed that Stormi's adorable face was no longer on Jenner's feed on June 10, they took to Instagram to try to find some answers. One Instagrammer commented, "she cUT HER BABY OUT," and that's when Jenner promptly responded, "Yeah I cut my baby out. I'm not sharing photos of my girl right now."
Jenner didn't fully discuss her reasoning, but a source told People that the reported reason had everything to do with people making "nasty comments" about Stormi. On June 12, a source told the publication:
Kylie felt so protective of her baby when she was pregnant. This is why she didn't share any bump pictures while she was pregnant. After Stormi was born, Kylie was the proudest mom... She couldn't wait to show off Stormi to her fans. She posted pictures, because she was so excited to be a mom. Unfortunately, social media is a crazy place.
See, you guys? This is why we can't have nice things.
But thankfully for us, the pause on sharing Stormi updates was lifted, and on June 30, Jenner took to Snapchat to once again show off the cutest little baby to ever exist.
And now, life is made even more complete with this video of Stormi watching her mom get her face all beautified. Jenner took to her Instagram Story to show just how mesmerized Stormi was to watch her get her makeup done.
Can we just talk about how entranced Stormi is with whoever is doing her mama's makeup?
Then we see Stormi notice the video on her mom's phone was rolling, and decides to give that a peek:
"Holding onto my hair is the new thing," Jenner commented on the video, and then she zooms in to capture Stormi's little hands gripping onto some of her locks:
Cuteness overload! Also, ouch if Stormi ends up pulling that just a bit too hard.
Jenner then posted a picture of the finished product, which was a gorgeous face of makeup and Stormi looking cuter than anything this world has ever seen:
Does anybody else want to squish those cheeks? Because I do SO VERY BADLY.
One thing is very clear though: the camera loves 'em both, and I'm not mad about it.