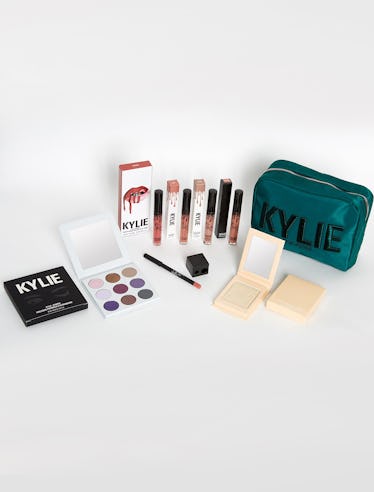 Kylie Cosmetics Is Dropping Curated Monthly Boxes Of Makeup For Almost Half Off
There's a new monthly beauty box in town, and it's already blowing all others out of the water. Despite the fact that each iteration is always filled with products by the same brand, they've been selling like hotcakes. How much do Kylie Cosmetics monthly bundles cost, you ask? Considering everything they contain, they're an absolute steal. But you'll have to act fast if you ever want to snag one, because like pretty much all Kylie Cosmetics drops, they tend to sell out at the speed of light.
If you're not familiar with the bundles, it's because they're a brand new offering from Jenner. They just launched in February, which is the month that Jenner's daughter, Stormi Webster, was born, so it's possible they dropped in her honor. If you remember, Jenner released an entire weather-themed makeup line inspired by her daughter a few weeks ago, so it wouldn't be surprising. Mom of the year? Mom of the year.
The bundles contain a collection of some of Jenner's favorite Kylie Cosmetics products — according to Instagram, they're "Hand selected by Kylie just for you!" — and include everything from lip kits to eyeshadow palettes to makeup bags and more. Basically, they're brimming with fan favorites. The products appear to change each month, so it's impossible to predict what each box might offer until it's announced. (It's kind of like Birchbox or Glossybox, except you can count on all of the products to be by a brand you know you love.)
What does stay constant, however, is the price of the bundles. They retail for $100 each month, and if that seems pricey just wait until you hear how much product each one contains. You'll quickly realize how sick of a deal they are, which explains why they sell out so fast.
For February, it's inaugural month, the bundle was blooming with Valentine's Day-appropriate products in red and pink hues. It looks to have been about 10000 percent better than a dozen red roses or chocolate bar ever could be, so if your significant other is into Kylie Cosmetics, take note. It included a makeup bag, shadow palette, highlighter, blush, three liquid lipsticks, and — the cheekiest part — a pink thong with the Kylie Cosmetics lip logo on it. The Kardashians and Jenners know how to make anything sexy and covetable, and this box was clearly no different! According to a post on the Kylie Cosmetics Instagram page, the bundle was a $198 value, which means fans who were able to snag one saved $98 — almost 50 percent! — on the collection of products. Considering Jenner rarely offers sales, this is a deal not to be missed.
The March favorites bundle is equally as impressive. It includes a Dazzle Velvet Lip Kit, French Vanilla Kylighter, Commando Velvet Single, Purple Palette Kyshadow, Maliboo Matte Single, Cupid Gloss, Kylie Sharpener, and an Emerald Cosmetic Bag. It's an epic swag bag, to say the least. Normally, these products would collectively cost $181, so the $100 price tag is, again, an unreal deal. The bad news, however, is that the March bundle completely sold out the day it was announced, proving just how speedy you need to be in order to cop one for yourself.
If the first two bundles are any indication, April's is bound to be filled with some of the brand's most-loved items, too. Just be sure to be online and ready to it add it to your cart the moment it's released or you'll likely have to wait another four weeks to get another shot. Pro tip: Jenner announces everything on social media, so check it religiously on April 1.