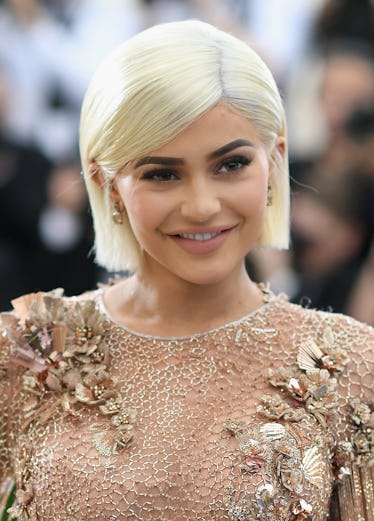 The Product Names In Kylie Jenner's New Makeup Collection Have So Many Ties To Stormi
Dimitrios Kambouris/Getty Images Entertainment/Getty Images
Stop everything you're doing, because Kylie Jenner revealed her next Kylie Cosmetics collection, and it's all about little Stormi. Jenner revealed earlier this month that she'd be coming out with a new line, but didn't give any hints as to what the name would be. But now that it's here, we have all the deets and they will make your heart burst (and also make you reach for your wallet, because these products look fly AF). Named "The Weather Collection," Jenner's makeup palettes look so, so amazing, but I'm really feeling one in particular, "Calm Before the Storm." And the meaning of Kylie Jenner's "Calm Before the Storm" names is so beyond sweet that you're going to want to snatch these palettes up stat.
Jenner went on her Instagram story to show off her new collection. Before she dove into all the gorgeous lipsticks, shadows, and highlighters, though, she got personal about the collection's background. She said,
So before I open up my newest collection, I just wanted to tell you guys a little bit of the background. I worked on this pretty much my entire pregnancy and right after we chose Stormi's name, her name really inspired me. So I spent a lot of time on this collection and I put a lot of detail into it, so I'll do my best to try to show you guys all the fun detail.
Say no more, Kylie.
While she debuted a TON of gorgeous palettes within "The Weather Collection," her "Calm Before the Storm" was one that had so many sweet references to her daughter, Stormi.
The outer box to the "Calm Before the Storm" palette is so, so pretty.
Also, look at dem nails. Crushing it, girl.
Kylie opened the "Calm Before the Storm" palette to show off both matte and shimmery shadows.
Gorgeous. Amazing. 10 out of 10.
Then, Jenner showed fans what it looked like by testing it on her own skin.
Seriously, just shut up and take my money. These look so lovely and this whole collection is just so inspiring.
But that's not even the best part. Jenner revealed the names of each of the colors, and it will have you screaming:
Look, I'm no scientist, but I'm pretty sure that all of these refer to Stormi in one way or another. I'm going to put on my thinking cap and guess just how Stormi inspired all of these names in the collection.
True Love: Well, duh, this one is obvious. Clearly, Stormi is Jenner's true love, and this soft pink shadow is so fitting.
Sunshine: This bright yellow color is bold for a shadow, but still somehow soothing. I'm thinking that Stormi is Jenner's very own sunshine.
Northern Light: The Northern Lights are a natural light display usually seen in the Arctic, and shows off crazy beautiful colors. This sage-green shadow makes me think that Jenner named this after just how magical her daughter Stormi is.
Angel: Stormi is Jenner's little angel, and the pale blue shadow literally looks heaven-sent.
Aquarius: Aquarians are born between January 19 and February 18 — which is Stormi's astrological sign. This soft purple shadow is reminiscent of an Amethyst, which is the Aquarius birthstone.
Sweet Sweet: I feel like this could be one of Jenner's terms of endearment for her little lady, and the shimmery rose gold shadow is gorgeous gorgeous.
Little Wonder: All babies are little wonders, so it's little wonder why Jenner would name this shiny gold shadow Little Wonder. (Dare you to say that five times fast.)
Rockabye: Just like the song that Jenner probably sings to Stormi as she goes to sleep, the green-silver Rockabye shadow is literally the color of my dreams.
Starbaby: This shimmery silver shadow proves that Stormi's not a Starbaby, she's a star, baby.
Heaven Sent: Stormi is sent from the heavens, as is this metallic lilac shadow.
There you have it, folks. Now go and shop Kylie's collection until you drop — loads of money, that is.