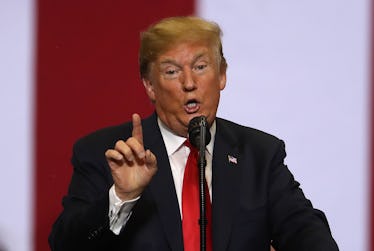 The Trump Admin Won't Say How Many Separated Children Are Still In Custody
Justin Sullivan/Getty Images News/Getty Images
Another day, another ridiculous report about what's going on with migrant families, thanks to the Trump administration. Although President Donald Trump has already dialed back his "zero tolerance" policy, which led to the separation of migrant families who illegally crossed the United States' southern border, many people are now questioning, "how many migrant children are still being detained?" It's an answer I'd love to share with you, but apparently, the Trump administration isn't giving the exact number up.
Last week, Health and Human Services (HHS) Secretary Alex Azar told reporters that 2,047 separated children still remain in HHS custody following President Trump's border executive order, which put an end to family separations. However, when TIME asked the HHS how many separated children were still being detained in HHS-funded facilities on July 2, a spokesperson would only offer up how many minors are in their custody, generally. An email to TIME from an HHS spokesperson read,
While we understand the interest in detailed breakdowns of this information, our mission has been and remains to provide every minor transferred to HHS, regardless of the circumstances, with quality and age-appropriate care and a speedy and safe release to a sponsor. Currently, there are more than 11,800 minors in our care.
That number reportedly includes "unaccompanied minors" who came across the border without their parents, according to the outlet. But the exact number of children the government had separated from their guardians who are still in custody remains unclear.
Elite Daily reached out to HHS for confirmation regarding the number of separated children who are waiting to be reunited with their guardians, but did not receive a reply by the time of publication.
The children had been separated from their guardians under the "zero tolerance" immigration policy, which instructed that all adults crossing the border illegally be prosecuted — meaning that they would be separated from any children traveling with them, as children cannot go through the adult criminal system. The policy led to reports of young children and even infants being taken from their parents, and heartbreaking photos and audio of children crying for their parents. In the weeks the policy was in effect, more than 2,000 children were separated from their guardians.
The HHS' lack of confirmation is especially concerning because the Trump administration is already facing a tight deadline to reunite separated children with their parents. On June 26, a California judge ordered that children under 5 years old must be reunified with their parents within 14 days — or July 10 — and children over 5 years old must be reunited within 30 days. However, the HHS told TIME that it simply wouldn't provide an exact number of the children in its custody because of the "constantly changing number of unaccompanied children in our care" under the court order.
Despite the claim, an official at the refugee office, who chose to remain anonymous, told Politico on July 2 that the reunification process hasn't actually been moving that fast.
"It's been really difficult to start the reunification process because we just don't have a lot of direction from leadership," the official explained. "That's been slowing things up, because there's just been a lot of confusion."
Although there appears to be a stall in the reunification of parents and children, based on the official's comments, the Department of Homeland Security (DHS) recently established a policy to reunite families following Trump's new executive order. As of June 23, 522 migrant children have been reunited with their guardians.
The official's comments are also a major contrast to the ones Trump gave when he announced his executive order to keep families together at the border on June 20. When speaking with reporters, the president said he and his administration were "working very hard on immigration," and were "dealing with it."
He added,
So we're going to have strong very strong borders, but we're going to keep the families together. I didn't like the sight or the feeling of families being separated. It's a problem that's gone on for many years, as you know, through many administrations. And we're working very hard on immigration, it's just been left out in the cold. People haven't dealt with it, and we are dealing with it.
I'd assume that "dealing with it" would include all aspects of immigration, including the reunification process of separated families, and knowing the amount of children left in detainment until it's complete. But hey, maybe not.