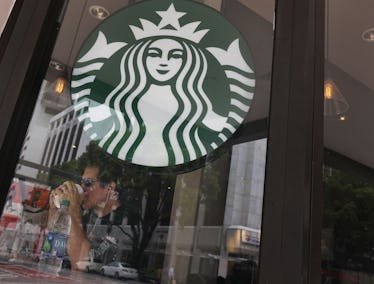 Starbucks' Protein Blended Cold Brew Won't Be Around Forever, So Grab One ASAP
Joe Raedle/Getty Images News/Getty Images
I don't know about y'all, but nothing gets me more excited than a Starbucks seasonal drink. They first brought us the infamous unicorn frappuccino, but now they're unveiling a frothy (and healthier) beverage alternative. So, how long will Starbucks' Protein Blended Cold Brew be available? You better grab them while you can.
On Tuesday, Aug. 14, Starbucks wowed customers yet again by introducing two new summer drinks, the Starbucks' Almond Protein Blended Cold Brew and Starbucks' Cacao Protein Blended Cold Brew. Needless to say, these blended drinks are perfect additions to its seasonal menu, but you'll want to grab them quick. According to Starbucks, the new drinks will only be available while supplies last, and though the coffee chain plans to have them available through the holiday season, I wouldn't take chances.
The drinks may be limited edition, but I guess that just has to mean you'll have to visit your neighborhood Starbucks daily. Safe to say once you have one of these protein-based beverages, you won't want to stop sipping, because have you heard about what goes into these two new drinks? They seriously sound delicious.
According to a press release, the Starbucks' Almond Protein Blended Cold Brew consists of Starbucks' Cold Brew with Almondmilk, plant-based protein, almond butter, Banana Date Fruit Blend and ice. Plus, it's filled with 12 grams of protein. The Starbucks' Cacao Protein Blended Cold Brew is made out of Starbucks' Cold Brew with Coconutmilk, plant-based protein, cacao powder, Banana Date Fruit Blend and ice and has 10 grams of protein. Best of all? They're both under 300 calories.
Gone are the days where customers have to pick fight between something tasty and something healthy! Thanks to Starbucks, we can officially have both.
Perhaps the biggest draw of any Starbucks' Frappuccino is its frothy and refreshing texture, but sometimes they can be a little to indulgent on hot summer days. I know when I head to Starbucks, it's for a quick and refreshing pick me up that'll have me energized for a few hours, but I don't necessarily want to feel like I drank a full meal. That's why these two plant based drinks are the perfect balance between frothy, but still light on the tongue. To be honest, I can't think of anything better than cold brew, and the fact that it's also packed with protein makes it the perfect summertime snack that I can take on the road with me.
Of course, these hot summer days can get tedious after a while, and some people may be super ready for fall. No worries everyone, I can't blame you. The thought of chilly days, infinity scarves, and multicolored leaves makes my heart beat fast too. However, we can't forget about the most exciting aspect of the chillier season... you know what I'm talking about, the Pumpkin Spice Latte.
On Aug. 8, the seasonal favorite reminded customers that its sweet and spicy flavor is coming back very soon by gracing Twitter with its very first tweet of 2018. Oh Pumpkin Spice, we can't wait to hold you again.
Fall definitely is a great season, but in the meantime I'll be sitting back and enjoying my protein blended cold brews while they're still around. After all, you never know what you have until it's gone.