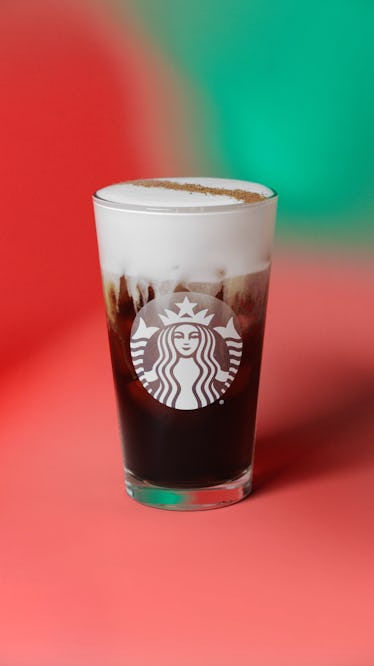 Starbucks' Irish Cream Cold Brew Is Finally Back, But It Won't Be Around Forever
Courtesy of Starbucks
Almost a month after rolling out its classic holiday mochas and lattes, Starbucks is spreading a little more seasonal cheer by bringing back last year's Irish Cream Cold Brew. With the popular sip making a surprise return on Tuesday, Dec. 1, you might be wondering how long Starbucks' Irish Cream Cold Brew will be available. You'll definitely want to stop by your closest storefront come Tuesday, because it's not sticking around long.
Fans might remember that Starbucks rolled out the sip, which is its second official iced-only holiday beverage ever, in December 2019. This year, the festive beverage will also be only available for a limited time at U.S. and Canadian Starbucks locations while supplies last.
Caffeine devotees who need a refresher or are wondering what the sip taste like can expect the chain's classic smooth Cold Brew that's been mixed with Irish Cream syrup then served over ice. The concoction is then finished with a vanilla sweet cream cold foam and a dusting of cocoa powder, delivering a drink that boasts just the right amount of sweetness.
Just like the fan-favorite Pumpkin Cream Cold Brew that Starbucks brought back in the fall, you can add Irish Cream syrup to any Starbucks beverage for an additional charge. So, whether you're looking to upgrade your classic latte or you want to go crazy with flavors by adding it to an existing holiday sip, the choice is yours. Again, this drink won't be around forever, so grab yours while the holiday season is going strong.
Keep in mind that while Starbucks' current holiday drinks, including its Peppermint Mocha, Toasted White Chocolate Mocha, Caramel Brulée Latte, Chestnut Praline Latte, and Eggnog Latte, can all be served hot, iced, or blended depending on the customer's preference, the Irish Cream Cold Brew is only available to drink cold. So, if you're a member of team iced drinks, you can add this drink into your holiday rotation — and potentially enjoy your limited-edition sip in one of Starbucks' new cold cups.
Come Dec. 1, you'll want to follow the coronavirus safety recommendations from the Centers for Disease Control and Prevention (CDC) as of Sept. 11 and try to pick up your drink in store or get it delivered. When picking up your drink, follow Starbucks' coronavirus safety guidelines and wear a face mask and practice social distancing when coming in contact with others. After leaving your Starbucks or handling any packaging, make sure to wash your hands before consuming your sips.
If you think you're showing symptoms of coronavirus, which include fever, shortness of breath, and cough, call your doctor before going to get tested. If you're anxious about the virus's spread in your community, visit the CDC for up-to-date information and resources, or seek out mental health support. You can find all Elite Daily's coverage of coronavirus here.
This article was originally published on