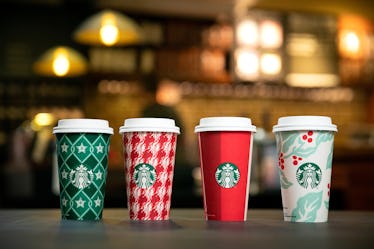 Starbucks' Holiday Drinks Won't Be Around Forever, So Sip A Peppermint Mocha ASAP
I think everyone can agree that one of the best parts of the holidays is the Starbucks seasonal drinks. From classics like the Eggnog Latte to new faves like the Juniper Latte, it doesn't feel like the holidays until you've got a warm, festively-decorated cup of Starbucks in hand. But all good things must come to an end, and you know the Starbucks' holiday lineup won't be here forever. How long will Starbucks' 2018 holiday drinks be available, you ask? You have a little more time to grab your seasonal faves — but hurry, because time's almost up!
The Starbucks 2018 holiday drinks arrived on Nov. 2 at stores across the United States and Canada along with four different "classic retro" holiday cup designs. A Starbucks newsroom post from November revealed that customers who bought a special holiday red cup on Nov. 2 could receive 50 cents off any grande-sized holiday drink until Jan. 7, using that reusable red cup.
It can be gleaned from this information that Starbucks plans to sell holiday beverages until at least Jan. 7. Elite Daily reached out to Starbucks for comment on when the holiday drinks will leave the menu, but did not hear back at the time of publication. Though there's no exact date yet, you can also look to the new Juniper Latte's release on Nov. 27, which shared that this holiday sip would be available for a "limited time, while supplies last," per the Starbucks website.
The Seattle-based coffee company also released a line of holiday foods and snacks like the Chocolate Swirl Brioche, the Peppermint Brownie Cake Pop, Iced Snowman Cookies, and the Carved Ham and Swiss Breakfast Sandwich. Customers can also sadly expect those to leave shelves in the first few weeks of 2019, so definitely gobble up your holiday faves before that happens.
Starbucks' holiday drink lineup in 2018 included lots of long-time favorites and some new twists like: the Peppermint Mocha (which has been around at Starbucks for 16 years), the Caramel Brûlée Latte, the Toasted White Chocolate Mocha, the Chestnut Praline Latte, the Gingerbread Latte, and the Juniper Latte. The company also unveiled several new holiday cup designs this year, from vertical red stripes, to Espresso Houndstooth, to Stargyle. If festive holiday drinks and treats aren't enough for you, Starbucks also unveiled a line of 2018 holiday gifts from the super cool Iridescent Cold Cup to holiday notebooks and pencil cases. Whether you still need a last-minute holiday gift or just want to grab yourself a cheery holiday present the next time you grab a cup of coffee, Starbucks is the place for you.
Speaking of holiday cheer, select Starbucks stores will be open on Christmas Day this year, according to Starbucks, so you can be sure to get your caffeine fix as you open presents or celebrate with loved ones. The best way to find out if your local store will be open is to give them a call and ask about their Christmas hours.
As the holiday season comes to a close make sure you enjoy the last few days of the Starbucks 2018 holiday drinks, which will most likely be phased out sometime in early January. Then, Starbies fans can all start the countdown to the 2019 holiday season!