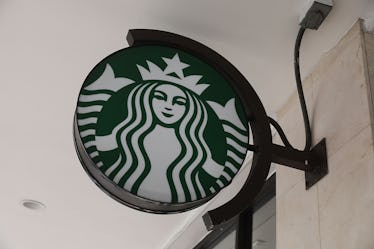 Here's What Time You Can Get Starbucks On Christmas Day 2018 For A Merry Sip
Joe Raedle/Getty Images News/Getty Images
New York may be the city that never sleeps, but Starbucks is the store that never sleeps. The holidays are coming and Starbucks is already gearing up for a rush of customers on Christmas Eve and Christmas Day. The Seattle-based coffee chain will remain open on Christmas Day to serve up freshly-brewed coffee to caffeine consumers across the country. What are Starbucks' Christmas Day 2018 hours? The times will vary by store, so make sure to give your favorite location a call before you venture out on Dec. 25.
I frequent Starbucks on a pretty regular basis. I'm not on a daily basis with Starbucks, but I'm pretty darn close to it. So, my Starbucks obsession had me wondering whether or not the coffee shop would be open on Christmas Day, and, if so, what the store hours might be. I'm happy to report that, per Starbucks, certain stores across the U.S. will be open on Christmas Day. This year Christmas Day falls on a Tuesday (Dec. 25). Now, I want to point out that it is possible that not all Starbucks stores will be open on Christmas Day. Only select stores will be open, according to a representative from Starbucks.
So, how will you know if and when your beloved Starbucks location is open on Christmas Day? Your best bet is to call the store prior to Dec. 25. Or, you could also just ask your barista during your next visit. On holidays, Starbucks stores adjust store hours based on customer needs and business needs, according to a representative from Starbucks.
To find your closest Starbucks, check out the Starbucks store locator that can be found on the Starbucks website. You can type in an address or your zip code in the search bar. Once you do that, a list of nearby Starbucks locations will populate. You will see the usual store hours, but since Dec. 25 is a holiday it is best to ask in advance. To find the phone number for the Starbucks store of your choice, click on the "i" with a circle around it that is next to the store hours. This will expand the listing and provide you with the store phone number to call.
While you're on the line, you may want to go ahead and ask about Starbucks' Christmas Eve hours, as well as New Year's Eve and New Year's Day. Just like on Christmas Day, Starbucks' store hours will vary by location. You might as well do yourself a favor and inquire all at once instead of having to do it again.
After all, Starbucks does have so many amazingly delicious holiday drinks available right now. Christmas morning is the perfect time to sip on a Peppermint Mocha or Chestnut Praline Latte. If you had a little too much eggnog on Christmas Eve, you might be wondering which Starbucks holiday drinks have the most caffeine. Some light research tells me that the Peppermint Mocha contains the most caffeine out of this year's lineup of holiday drinks. Honestly, you can't go wrong with any of Starbucks' holiday drinks this year. If you're headed home to spend Christmas Day with family, it might be nice to offer to pick up Starbucks for whoever is in charge of Christmas breakfast. Just remember to call the store before you go to find out that particular location's hours.