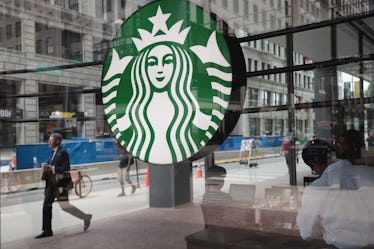 You Could Win Free Starbucks For 30 Years By Playing The 'Starbucks For Life' Game
Scott Olson/Getty Images News/Getty Images
From festive drinks to cheerful coffee cups, the holidays are already in full swing at Starbucks locations around the country. The coffee chain began ushering in the holiday season before Thanksgiving, but there's just one thing missing to complete Starbucks' annual holiday hoopla. What am I talking about? Starbucks' "Starbucks for Life" holiday contest, of course. The game is back for the fourth consecutive year in a row. I've played every year and still haven't won anything, but maybe this holiday season will bring me lots of luck. If you're in the same boat as me, here's what you need to know about how to play.
The contest is technically only open to Starbucks Rewards loyalty program members. So, if you're not already a member of the Starbucks Rewards loyalty program, the first step for you will be to sign up ASAP. The "Starbucks for Life" game began on Tuesday, Nov. 27, and it will end on Monday, Dec. 31, according to Starbucks. The sooner you sign up and make a qualifying purchase, the better your chances of winning are. Here's how it works. Every time you make a purchase at Starbucks using your Starbucks Rewards loyalty program account, you will earn a "play." The play can be redeemed online at StarbucksForLife.com. Just sign into your Starbucks account to view your plays and use them.
Each week until the end of the year, Starbucks will be rolling out a new challenge for you to unlock. During the first week of the program, Starbucks Rewards loyalty program members must make a purchase by ordering ahead to earn one play. Want to earn three plays? All you have to do is make three separate purchases by ordering ahead. Mobile ordering is so easy thanks to the Starbucks app. (Plus, you won't have to wait in that long line to get your coffee.)
Oh, and one other important thing to note. Each play counts as a game piece or an Instant Win. Once you have collected three game pieces in a row, you can win amazing prizes like Starbucks for a Month, Starbucks for a Year, 1,000 bonus stars, 500 bonus stars, and more. You'll also be able to track how many Instant Wins and Extra Plays you have at StarbucksForLife.com. The Instant Win prizes aren't as good as Starbucks for Life, but each deal is pretty sweet and includes free brewed coffee, bonus stars, and other special offers, according to Starbucks.
Now to the top prize: Starbucks for Life. OK, so, I hate to be the bearer of bad news but you can't actually win "Starbucks for Life" when you play the contest. I know, I know. That would be like winning the lotto, right? Well, not quite, but it's up there. According to Starbucks, the term "Starbucks for Life" means that you can win complimentary Starbucks for 30 years. If you win, you will get a credit for one food or one drink item every day for 30 years. Fine by me.
If you're not a Starbucks Rewards member, you can still play a modified version of the game. Visit StarbucksForLife.com for a chance to win 30 Days of Starbucks, discounts, buy-one-get-one offers, and other details. Starbucks will pick one winner each week. You'll have to enter in your first and last name, valid email address, and zip code to get started. All in all, this sweepstakes is totally worth it.