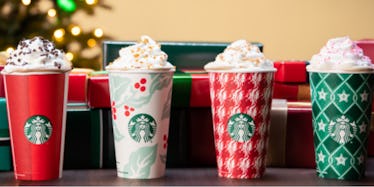 These Starbucks' Holiday Drinks Have The Most Caffeine For Your Black Friday Shopping
Starbucks
Caffeine is vital to my everyday existence. I drink coffee when I wake up, when I need an afternoon pick-me-up, and, really, whenever the urge strikes. With Black Friday right around the corner, there's no way I'll be skipping out on the caffeinated goodness during my annual holiday shopping spree. With all of the crowds and lines, I'm gonna need it. If you're in the same boat as me, you might be wondering which Starbucks holiday drinks have the most caffeine. I've taken the work out of it for you and ranked them from most caffeinated to least caffeinated.
Once Halloween was over, Starbucks announced the release of their seasonal coffee drinks on Nov. 1. I don't know about you, but I live for this moment each holiday season. With six different drinks to choose from, it can be hard to decide on which one to order. If you're having trouble, why not order the one with the most caffeine? After all, you're gonna need it for all that holiday shopping. How did I rank them? I checked the nutritional facts for each drink on the Starbucks website. The amount of caffeine listed below is for a grande-sized brew with no extra add-ins. You can safely have up to 400 milligrams of caffeine each day, according to Mayo Clinic. Starbucks' holiday drinks have 150 milligrams to 175 milligrams, depending on what you order.
It's safe to say that the lines and crowds of people can get pretty intense, so coffee is a must if you'll be braving the Black Friday shoppers. Even if you're shopping from your couch this year, Cyber Monday is a marathon event. Plus, there are tons of other deals happening all season long and you're gonna need the stamina to shop. Here are the Starbucks holiday drinks with the most caffeine, ranked to keep you powered up this holiday shopping season.