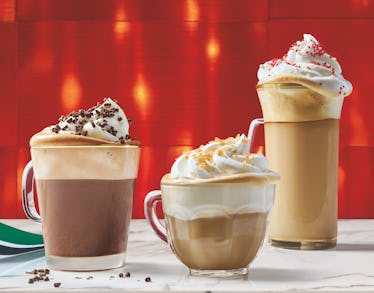 Starbucks Is Spreading Cheer With The Return Of These 6 Holiday Drinks, So Rejoice
The official herald of the holiday season has finally returned to Starbucks, and I couldn't be happier to bid adieu to fall and welcome all of the Christmas magic into my life. On Nov. 2, Starbucks will open its doors to the homecoming of its hallowed red seasonal cups as well as a lineup of beloved festive drinks that have imbued many a cold winter's day with some sweet, body-warming magic over the years. These six Starbucks 2018 holiday drinks — including the cult favorite Peppermint Mocha Latte, which is back for its 16th year on the coffee roastery's holiday menu — are now available for purchase at your local Starbucks, so let the holidays officially commence.
Per a press release shared on Thursday, Nov. 1, Starbucks announced that it is releasing four different "classic retro" holiday cup designs to really get its customers into the magic of coffee this season — and they'll be available beginning Friday, Nov. 2. While it's an annual tradition for the coffee extraordinaires to announce the countdown to Thanksgiving and Christmas with specially-themed cups, I was pretty impressed by this year's pretty selection. While last year's design featured color-in segments so you could put your own spin on it, 2018's holiday cups are unapologetically festive — and there's not one, but four different options to choose from. How's that for holiday cheer? For those who like a more simple look, a striped red and maroon cup will suit your holiday sips nicely, while designs of holly and green stars on two others will definitely help amp up the cheer. My personal favorite is a dizzying illustration of red candy canes that somehow manages to combine an optical illusion and the spirit of the holidays in one design.
While the cup designs are different this year, the contents of said cups are much more familiar. Your favorite drinks of holidays past are coming to a Starbucks location near you, so here's a refresher on what limited-edition brews you can order for a taste of the season.