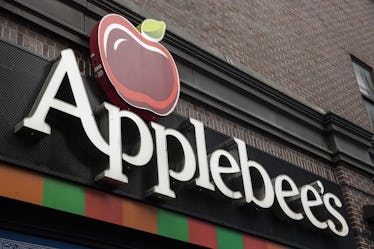 Applebee's Is Selling $1 Bahama Mama Cocktails All Month Long, So It's Basically Spring Break
Andrew Burton/Getty Images News/Getty Images
Christmas has come early, you guys! Just last month, Applebee's announced $1 Long Island Iced Teas for the entire month of December, and they must've noticed how much we loved the deal because they just announced a similar one: $1 Bahama Mamas. If you were wondering how to get your hands on Applebees' $1 Bahama Mama cocktails, here's everything you need to know.
On. Jan, 30, the restaurant announced a new "Drink of the Month" was coming soon through their Instagram. According to reports, that beverage is their DOLLARMAMA, available in restaurants on Thursday, Feb. 1. The drink is Applebee's own spin on the classic, tropical cocktail "Bahama Mama," and includes yummy ingredients like pineapple, lime, and orange juices, cherry and coconut flavors, as well as a mix of white rum, according to Delish. Now if there was only a way for us to bring the beach to ourselves, we'd totally be ready for spring break!
But seriously, the DOLLARMAMA will be available for order all day long throughout the entire month of February, and there's no limit on how many you can order. How can you mind buying a round of drinks for your friends when the prices are this cheap?
After the news of the deal broke, Twitter users started freaking out.
If you don't think the DOLLARMAMA is that big of a deal, these tweets will surely convince you.
Applebee's often gives us sweet deals.
No pun intended.
In December 2017, the restaurant chain announced $1 Long Island Iced Teas, one of their best-selling cocktails, according to a company spokesperson. In a press release, Patrick Kirk, Applebee's' vice president of beverage innovation, opened up about the promotion. He said,
The Dollar drink is back at Applebee's just in time for the holidays, and this time, folks can enjoy a $1 Long Island Iced Tea. The Dollar L.I.T. is kind to your pocket book and a great drink to share with old friends and new ones this holiday season.
And two months prior, in October 2017, Applebee's announced $1 margaritas. According to an announcement posted on their website, the promotion was a part of their "Neighborhood Appreciation Month," at several restaurants around the country, according to Delish. When speaking about the deal, Kirk said it was to show guests "a little love." He said,
We focus on our food a lot, but 'bar' is in our name, and it is an integral part of what makes Applebee's a great neighborhood destination. Our $1 margaritas in October give us a chance to show our guests a little love, giving them a totally unbeatable offer as a gesture of our sincere appreciation for their patronage.
I'm not sure what we did to deserve the latest promotion, but I'll say, I'm definitely feeling the love.
But the deals have been called out in the past.
Around that same time, a video surfaced online of an Applebee's employee showing how the beverages were made. They claimed that five gallons of their margaritas were made with three gallons of water, thus creating a watered down drink.
However, a rep for the restaurant cleared up the claims soon after. In a statement to Delish, the rep said:
The bartender in this video did not follow the proper preparation instructions for the Dollarita. When we first saw it, we immediately reached out to our franchisees to reiterate the correct approach to making our Neighborhood Appreciation Drink. The Dollarita recipe includes one-part tequila and three-parts margarita mix, served on the rocks. The Dollarita will come to an end soon, and we welcome guests to visit their local Applebee's to enjoy the Neighborhood Appreciation Drink, while they can. And, as always, celebrate responsibly.
Well, if these type of deals keep coming back, they have to be doing something right, and I'll toast to that.
Cheers!