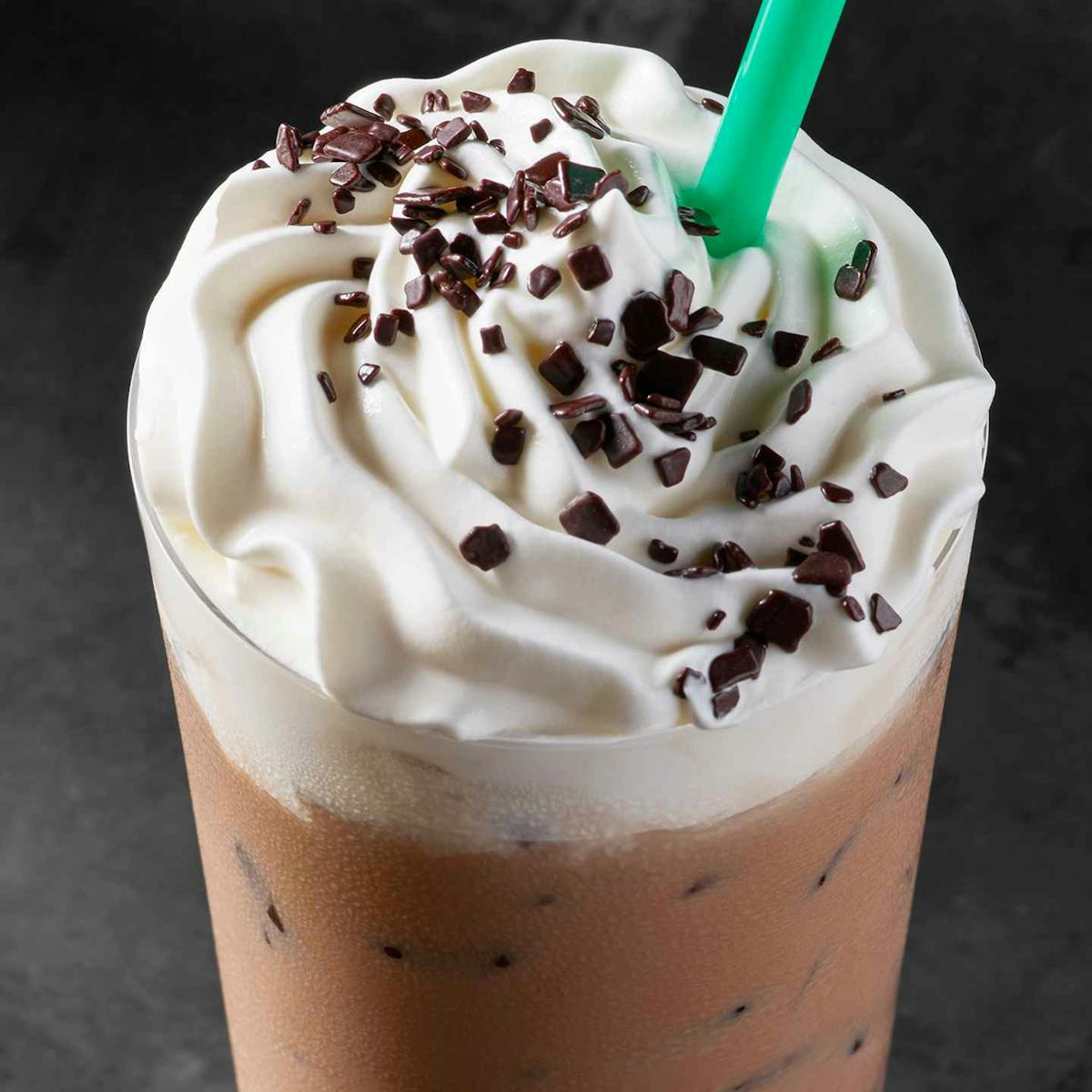 Starbucks' Festive Black & White Mocha Collection Won't Be Here Forever
As the Christmas promotions wind down, New Year's Eve promotions are already in full swing. Never one to be left out of the celebration, Starbucks is introducing their new Black and White Mocha Collection. The collection features three drinks that are totally dolled up and ready to ring in 2018: the Black and White Mocha, the Black and White Hot Cocoa, and the Black and White Frappuccino. But just how long is Starbucks' Black and White Mocha Collection available? Run — don't walk — to your local Starbucks if you want to taste these lavish libations.
According to Starbucks, the Black and White Mocha Collection will be available in the U.S. and Canada starting Dec. 27 and through the new year, while supplies last. So if you're ready to drop your Peppermint Mocha in favor of something new, at least for a little while, you'll want to do it sooner rather than later.
So what exactly are these decadent drinks? There's something in the collection for coffee lovers and abstainers alike, and each one sounds equally as delicious.
The Black and White Mocha's base is made of Starbucks' signature espresso roast, so this is definitely for the caffeine lovers out there. The drink is poured over a "silky swirl of white chocolate and dark mocha," adding a rich sweetness and elevating it from your regular old cup o' joe. The beverage also contains steamed milk to balance the richness, and is topped with whipped cream. Bonus: The whipped cream is topped with a stripe of chocolate "sequins" to resemble a black tie. Double bonus: It can be ordered hot or cold, depending on if you're cozied up by the fire or keeping toasty on a chilly day.
The Black and White Hot Cocoa has got Ovaltine beat by a long shot. It's another rich mixture of dark mocha sauce, white chocolate mocha sauce, and steamed milk, and is also topped with the same whipped cream and chocolate sequins as the Black and White Mocha. It's black-tie appropriate and perfect for anyone who's not into coffee or just looking for a sweet treat.
Finally, the Black and White Frappuccino is a festive spin on an old classic. Those of us who spent weekend afternoons with our friends in the mall as pre-teens definitely remember the joy of getting a Vanilla Bean Frappuccino to carry around (as a non-coffee drinker, I'm unashamed to say that I still indulge every now and then). But this drink is next level and will leave you wishing it had been out when you were browsing the aisles of Hollister. The blended beverage is a delicious combination of the dark mocha sauce and white chocolate mocha sauce from the Black and White Hot Cocoa, plus frappuccino roast coffee, milk, and ice. Of course, it's topped with the signature whipped cream and chocolate "sequins" — perfect for people who aren't in desperate need of a caffeine boost, but still enjoy the taste of coffee and just the tiniest kick.
The three liquid treats are the perfect follow up to Starbucks' festive Christmas Tree Latte, which they released earlier in December. The sugary concoction was made with a peppermint mocha crème base and topped with a Matcha whipped cream (yes, there is such a thing) 'tree' trimmed with caramel drizzle garland, candied cranberry ornaments, and a strawberry tree topper. For those who aren't quite ready to kiss the holiday season goodbye, the Black and White Mocha Collection will keep spirits high into the new year.
I can't wait to try the Black and White Mocha Collection, and I also can't wait to see what holiday gimmick Starbucks rolls out next. Only two months 'til Valentine's Day!
Check out the entire Gen Why series and other videos on Facebook and the Bustle app across Apple TV, Roku, and Amazon Fire TV.