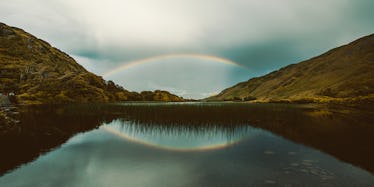 The Winter Solstice Is Coming, So Here's How It Might Affect You & Your Body
On Thursday, Dec. 21, just as Mercury (finally) begins to come out of retrograde, the winter solstice will begin. Honestly, Mother Nature, how much change do you think our bodies can handle?! Like, take it easy, fam. If you're wondering how the winter solstice affects us, you're probably not alone, and you have a right to be a little concerned about it. After all, you've already been through hell and back with the all the retrograde mayhem, and now you have another astronomical event to prepare yourself for. Deep breaths, people.
For starters, if you're not sure what the winter solstice even is, it simply marks the shortest day and longest night of the year in the Northern hemisphere — aka the official first day of the winter season, at least on this side of the planet. The tilt of the Earth causes the change in seasons, and during the winter solstice in particular, the Earth's Northern hemisphere is farthest away from the sun.
Keep in mind, even though the winter solstice is said to mark the "shortest day of the year," Dec. 21 will still technically be 24 hours long. But it'll feel short AF, because the sun will set really, really early. So yeah, prepare yourself to feel like you're ready for bed at like, 3 p.m. that day.
So, what does all of this tilting of the Earth and the change in seasons have to do with your body? Believe it or not, the winter solstice may affect a lot of things in your life, including your mood, your sleep schedule, and maybe even your sex drive.
My friends, winter is, indeed, coming, so here are seven ways the upcoming solstice may affect you and your body.