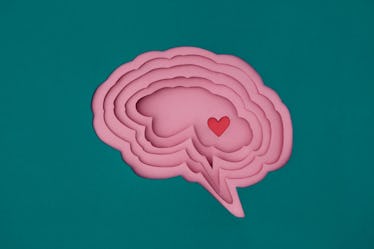 This Is What Happens Inside Your Brain When You Go Through A Bad Breakup
Love is an incredibly unique feeling. Sometimes, the mental and emotional effects of being in a relationship seem to defy both science and reason. Your romance may feel like magic, but in reality, love and science go hand-in-hand. Whether you're falling in love or dealing with the aftermath of a breakup, your brain and body tend to react in very distinct ways. When it comes to the question: "How does a breakup affect your brain?" The answer is understandably fascinating.
There's a science behind falling in love, and there are psychological reasons why different factors, like listening to music during sex, can affect your physical and mental experience while hooking up. So, naturally, there is also a logical explanation for why breakups can hurt so much and make you feel completely awful.
While research on the subject of how breakups affect the brain is still fairly limited, there have been a few significant studies conducted to try and understand how the brain behaves when a person is experiencing heartbreak. There is some good news: When it comes to the process of getting over a breakup, your brain is ultimately on your side. Here's what else you need to know about how your brain deals with the pain of a breakup, according to recent scientific studies.