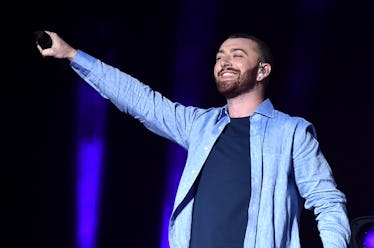 Here's Everything We Know About Sam Smith And Brandon Flynn's Rumored Relationship
Kevin Winter/Getty Images Entertainment/Getty Images
In case you've been taking a break from Twitter/social media in general lately (I don't blame you, that sh*t is anxiety-inducing), Sam Smith and Brandon Flynn are reportedly dating! If you aren't sure who Brandon Flynn is, he plays Justin on Netflix's 13 Reasons Why. If you don't know who Sam Smith is, you can exit stage left. Just kidding, I wouldn't judge you for not knowing who Sam Smith is... that much. Anyway, the two were seen kissing last week, making people believe they're an item! So how did Sam Smith and Brandon Flynn meet? While neither has confirmed their alleged relationship yet, if you're making out with someone in public, there's definitely something going on there.
Photos of the alleged couple started surfacing last week when Smith and Flynn (am I the only one who thinks that sounds like a law firm?) were seen strolling through NYC together. They also saw Broadway's Dear Evan Hansen while they were in the Big Apple and had a good cry. (HOW DOES IT FEEL TO CRY AT THE HANDS OF HEARTBREAKING MUSIC, SAM?!) Although neither posted pictures of the two of them together at the show, they each individually posted about having seen the show the day after, so they were obviously having a date night. Even though they've been on some adorable dates and look downright adorable as a potential couple, we still have no idea how the two met. But Hollywood is a small town, so it's possible they met through mutual friends, at a party, or even at an after-party of an awards show.
No matter how they met, fans are here. For. It.
After shaking the world with their couple-y presence and seeing Dear Evan Hansen, Smith and Flynn (attorneys at law) posted about the show afterward.
Flynn posted on Instagram saying,
Insanely beautiful story telling. In awe of what happened on that stage last night. Shows like this make me so excited to be a story teller, food for my heart and soul. If you haven't seen it, G-O-N-O-W! And catch @bensplatt generously give his heart, body, and soul! To the whole cast and crew of @dearevanhansen keep doing what you do!
Smith tweeted about the show praising its leading man, Ben Platt.
He tweeted, "Just went to see 'Dear Evan Hansen' - out of this universe. I properly snot cried throughout!! @BenSPLATT was sensational xx GO SEE IT."
According to Us Weekly, Smith and Flynn grabbed dinner and drinks at Catch restaurant in NYC on Monday, Oct. 2. They saw Dear Evan Hansen the next night, Tuesday, Oct. 3. A source told Us Weekly that they aren't planning on talking about their alleged relationship online as of right now, but that doesn't mean they're necessarily hiding it. The source said,
Obviously, they haven't publicized their relationship on their social media accounts. But they also aren't afraid to show some PDA.
If you're a little confused about when this romance started, don't worry, so are we. Smith never hinted that he was dating anyone. In fact, just last month during an interview with Beats 1 host Zane Lowe, he said he was "insanely single." Oh reallyyyyyyyy? The "Too Good At Goodbyes" singer said,
I'm still very, very single. I think I'm even more single than I was when I released [my first album] In the Lonely Hour, so I'm insanely single.
We do know that Smith and Flynn have at least known each since September, since Smith commented on one of Flynn's Instagrams about marriage equality in Australia on Sept. 17.
He wrote,
Just saw the 'vote no' message in the sky, looming over Sydney. Thank you for raising money and hiring on a plane to write your lack of support amongst the clouds. I hope your hate and lack of understanding fades, just like those words will. Too many of my friends have been kicked out of their homes, kept in the closet, beat up, killed, ridiculed by church and state, institutionalized... and you are scared that if we vote YES, you won't be able to show your hate for Us. F*ck that. We've been scared shitless our whole lives thanks to all the stigmas that surround Us, stigmas that were set in place by the same kind of people who flew that plane over Sydney. We've fought, we've come out bravely even in our fear, and you wrote a message in the sky because you're scared. Equality takes courage, it worries me that too many people in this world lack the balls to stand up for what is right. #f*ckhate
Smith commented a simple "x," which we know he loves to do when he loves something. So yeah, we might not know when and how exactly Sam Smith and Brandon Flynn met, but we do know they're shaping up to be one of the cutest ~alleged~ celebrity couples in the game right now. Don't say goodbye to this one, Sam! (Unless, you know, you mutually and respectfully decide you aren't right for each other, in which case we will gladly support both of your decisions because we all want to live that healthy communication life.) Until then, lay me by your side, gentlemen.