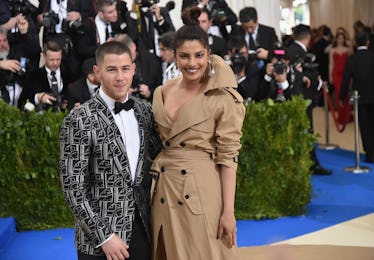 Nick Met Priyanka's Mom The First Night They Hung Out & This Is What Happened Next
Mike Coppola/Getty Images Entertainment/Getty Images
I never thought I'd say this, but... I have something in common with Priyanka Chopra. No, I'm not a famous actress. No, I'm not getting married to one of the biggest pop stars in the world at a palace in India any time soon. And, no, I (for some odd reason) didn't get invited to the Met Gala last year. But Chopra and I do have one thing in common: both of our partners got on one knee the day they met us. Vogue just published an entire profile on the actress, and she dished on how Nick Jonas met Priyanka Chopra for the first time. It turns out, things were hot and heavy between the couple from the get-go.
OK, let's backtrack for a second here. Jonas and Chopra actually first started talking back in 2016 when Jonas slid into Chopra's Twitter DM's. "I'm hearing from a few mutual friends that we should meet," he wrote on Sept. 8, 2016. She responded the same day saying, "My team can read this. Why don't you just text me."
From there, the two started a text-lationship of sorts until they ran into each other at the Vanity Fair Oscars party. Jonas was so taken aback by Chopra's beauty that he had to put his drink down and make a move.
"I put my drink down," Jonas told Vogue, "get on one knee—this is in front of a bunch of people—and I say, 'You're real. Where have you been all my life?' Like, loud."
Chopra had things to do. She had a flight to India to catch and a car was already waiting to whisk her away to the airport. But that didn't stop Jonas from asking her out for drinks. "I looked at Anj" (her manager, Anjula Acharia), Chopra says. "And I said, 'Five minutes.' "
They finally wound up getting that drink a week before the 2017 Met gala. The two met up at the Carlyle hotel in New York. The date went so well that Chopra invited Jonas up to her apartment when it was over. Oddly enough, the night of their first date was also the night Jonas had the pleasure of meeting his future mother-in-law, Madhu, who was sitting on the couch at Chopra's apartment watching Law & Order in a nightgown.
"We hung out for a couple of hours," Chopra tells Vogue of that one fateful night. "He patted my back before he left."
"There was no kiss. There was nothing," Jonas confirms to Vogue.
"There was a back pat," Chopra repeats to the publication.
"She's still upset about that."
After Chopra demonstrated the now infamous back pat for the Vogue reporter, Jonas reminded her: "Your mom was in the house! I thought it was a respectful first night."
"It was too respectful if you ask me," she retorted in front of the reporter.
A couple weeks after their drinks at the Carlyle, Chopra and Jonas both attended the 2017 Met Gala. You know, the one where they made their seemingly out-of-the-blue public debut?
This one:
After that initial meet-cute and subsequent Met Gala red carpet appearance (casual), they didn't see each other for an entire year until the 2018 Met Gala. (I sense a theme here.) They went on a few more dates, and after their third, Jonas called Chopra's mother to inform her that he was going to marry Priyanka. He got down on his knees (for real this time) on one of Greece's largest islands, Crete, in July.
Chopra thought the trip was for her birthday, but Jonas had bigger plans in mind. He told Vogue that he waited until after her birthday was officially over to pop the question, so that their engagement anniversary wouldn't interfere with any potential future birthday celebrations (which, as a lover of my birthday, I really respect).
"I got down on one knee, again, and I said: Will you make me the happiest man in the world and marry me?" Jonas tells Vogue. "No joke—she took about 45 seconds. Forty-five seconds of silence." Chopra tells Vogue the wait was because she was speechless. But Jonas was unfazed, telling her, "I'm going to put this ring on your finger now unless you have any objections."
Luckily, Chopra had no objections, and now the two are set to wed in India this weekend. Congrats to the happy couple!