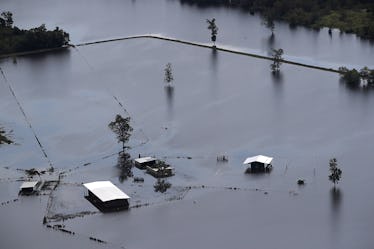 2017 Was A Bad Year For Natural Disaster & Here's What It Means
Justin Sullivan/Getty Images News/Getty Images
While New Year's is just a few days away, it may be hard to believe that as of Thursday, Dec. 28, firefighters were still containing the blaze that has been tearing through Southern California. But just how bad was 2017's weather? Objectively, there's no question that this year saw some pretty extreme weather and full-on climate disasters in the United States and beyond.
The events were enormously destructive. Of course, money is only one measurement of how destructive this year has been. The impacts extend far beyond finances, and there's no way to quantify the less tangible aspects of the loss disasters bring. Per a report by the National Centers for Environmental Information, 2017 had 15 major weather incidents and climate disasters in the United States, including fires, hurricanes, droughts, tornadoes, and more.
Tallying it all up, the 15 events racked up $21.8 billion in damage in the U.S., not including the costs of some incidents that are still being determined. Per this report, at least 354 lives were lost to this year's climate disasters in America. But it's hard to tell exactly how many casualties there were; as The New York Times pointed out, Hurricane Maria's death toll, contrary to its official count of 64, could have actually been over 1,000.
Even as the numbers are still being sorted, there's no question that the year's extreme weather had a phenomenal impact on communities.
Fires Raged Through California
The year was projected by NASA to be the second-hottest on record, and ranks up pretty high by the World Meteorological Organization standards, and it probably didn't help fire-prone regions. The Thomas Fire took out over 1,000 structures per NBC, racking up over $170 million in damage according to The Los Angeles Times. As it actively burned, the Thomas Fire became the fourth-largest in California history, according to the National Oceanic and Atmospheric Administration (NOAA). It's also one of the only large-scale wildfires the state has seen in December, which was supposed to mark the wet season.
Thomas was one of several major fires that tore through the state this year. Just two months earlier, Northern California was ablaze; the Tubbs fire took out 5,600 structures. The LA Times reports that 9.5 million acres have burned this year nationwide, and California's Department of Forestry and Fire Protection had already dropped nearly $700 million fighting blazes, making it the most destructive fire season on record.
Hurricanes Battered The Gulf Coast
This year has also been astronomically destructive (pun intended) with regards to tropical storms. Hurricane Harvey, which pummeled the coast of Texas in late August, dumped 50 inches of rain to some parts of the region and washed well over two feet over most of Houston and the surrounding area. The first major hurricane to hit the mainland U.S. since 2005, Harvey was estimated to leave Texas with a years-long prospective recovery time.
Hurricane Irma, which struck Florida and the Caribbean in September, was projected to set records in the amount of damage it caused and would take to repair. The hurricane could cost the U.S. $172 billion, by early estimates.
Without giving the region any breathers, Hurricane Maria pummeled Puerto Rico in late September, razing much of the island's structures and sending the power grid into a tailspin.
That wasn't even all of them; per the NOAA, there were 17 storms this season, six of which were major hurricanes. In all, the hurricanes of 2017 alone set a record for the most expensive tropical storm season season in U.S. history, coming in at about $200 billion in projected costs.
Support for victims has also flooded in from all corners, with donation drives and benefit concerts aplenty. Still, Puerto Rico remains largely without power. On Oct. 24, Congress passed a $36.5 billion disaster relief bill to provide funding to the wildfire and hurricane victims. In December, Congress sought another $81 billion for California, Puerto Rico and Gulf Coast states affected by the disasters, but the bill failed. The houses are expected to work again early in 2018 to continue to secure funding for climate disaster victims.
Ironically, on Thursday, Dec. 28, President Donald Trump tweeted about a record-breaking cold spell on New Year's Eve, prompting a discussion about climate change. Chef José Andrés, quoting the tweet, wrote, "Mr. Trump just we had one of the bigger seasons of hurricanes in a century! People in USA are without homes, food and electricity because of Global warming!!!"
It's unclear what next year has in store in terms of weather. Let's hope 2018 doesn't follow in its predecessor's footsteps.