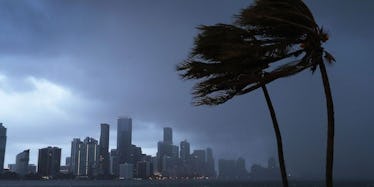 Hurricane Irma Damage Costs Might Set Records, And Not Good Ones
Joe Raedle/ Getty Images
Hurricane Irma is continuing to devastate Florida, and setting all sorts of scary records at it goes. Not only did the storm manage to maintain an unprecedented wind speed, but it has cost a staggering amount in damages. Early estimates of Hurricane Irma damage show that the storm will be one of the most expensive natural disasters of all time.
According to CNN, Irma could cost the U.S. an estimated $172 billion worth of damage. And over in the Caribbean, where Irma claimed at least 26 lives, infrastructure has taken a catastrophic hit. In St. Maarten, 70% of the island's houses were destroyed, and the damage totaled $1.44 billion, The Washington Post reported. The most devastating property loss occurred in the island of Barbuda and the British territory Anguilla, where 90% of the structures were damaged or destroyed.
Antigua and Barbuda Prime Minister Gaston Browne called his island is "barely inhabitable" after Irma's destruction. He told ABC News,
When you have an unprecedented storm like this that comes with such significant wind force this is like having a bomb literally thrown on a city. ... It is really the sheer magnitude of the winds that destroyed these properties.
These losses will not only affect the government's budget, but will also create significant strain on those who have lost their homes, means of transportation and time spent away from work. For those affected, only some of those losses will be covered by insurance, AccuWeather founder Dr. Joel N. Myers reported. He explained,
The losses will be felt in a variety of ways by millions of people. Many millions of people have already been evacuated, so their lives have already been affected and they have incurred costs of one sort or another.
As of Sept. 11, Irma has been downgraded to a tropical storm. At its peak, it slammed through Puerto Rico on Sept. 6, as a Category 5 storm, with a historic windspeed of 185mph — and managed to maintain nearly that same level of intensity as it blew through the Dominican Republic and Turks and Caicos.  By the time Irma had hit the Florida Keys on Sept. 10, it had dropped to a Category 4 storm, with wind speeds of 130 mph — much lower, obviously, but with continued devastating consequences.
On-the-ground photos posted to social media show just the beginnings of the damages Irma has caused – including fallen trees, heavy flooding, and collapsed homes.
As of Sept. 11, millions of Florida residents are still without power, there's a shortage of fuel, and search-and-rescue missions are being conducted throughout the state. Florida's Gov. Rick Scott warned Floridians during an ABC News television interview on Monday that no one should get complacent yet. He explained,
We have got to make sure people understand it is still dangerous. Everybody has got to be patient as we work through this. We've got downed power lines all across the state, we've got debris all across the state. Our goal again is don't put anymore lives at risk.
As awful as the financial burden will be to rebuild and recalibrate, that's not even the beginning of the emotional and mental toll that Irma has already taken on hurricane victims.
In the U.S. Virgin Islands, many residents only have a weeks worth of food and water left, according to The Washington Post. In Cuba, as of Sept. 9, 50,000 people were without power.
The Guardian reported that an estimated 160,000 people are living in shelters in Florida right now, many of which are ill-equipped and lacking enough resources to accommodate the enormous influx of visitors. Other makeshift shelters have sprung up at local temples and churches, which are also struggling to keep up with demand.
Images on Twitter show massive lines for shelters – for both people and animals alike.
Kate Albers, a spokeswoman for Florida's Collier County, explained to The New York Times that the situation has become overwhelming. She said,
Word would get out that there was a shelter opening somewhere and before we could even get out a press release, people were already lined up.
As always, sending so many well-wishes to those affected, and hoping the rebuilding goes as swiftly and smoothly as possible.