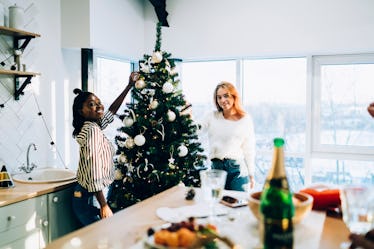 10 Holiday Decorations You & Your Partner Need For Your First Place
Shutterstock
When you and your partner move into your first place together, you want it to instantly feel like home. You may want to shop for cozy blankets and colorful dish-ware, or put pictures of the two of you in frames to hang on the walls. During this magical time of year, you might also want to check holiday decor to buy with your partner off your list and deck your halls with twinkly lights and festive candles.
That way, your apartment in the middle of New York City or cute condo near the sea feels like home. It's filled with cookie cutters shaped like snowmen, and a fireplace that's begging for you and your partner to cuddle up on the couch and watch a holiday movie. When you both get home from work and drop your boots at the door, it welcomes you and gives you the warm feeling that you're exactly where you're supposed to be.
Most importantly, your winter oasis dressed up in red and green will get you into the holiday spirit. Buying and putting dreidels in a bowl on your coffee table, or putting candy in a Grinch mug will make the two of you feel so festive all season long. So pick up these decor items right now and turn your place into a wonderland.