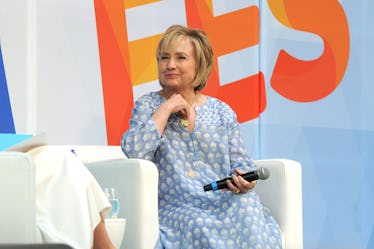 Hillary Clinton Said What Everyone's Thinking About Trump's Meeting With Putin
Brad Barket/Getty Images Entertainment/Getty Images
The summit between President Donald Trump and Russian President Vladimir Putin in Helsinki, Finland on July 16 might have been a few days ago, but no one is done talking about it. On July 21, former Secretary of State and ex-presidential candidate Hillary Clinton attended a festival in New York City to discuss a myriad of topics, and of course the infamous meeting was brought up. Well, to no one's surprise, Hillary Clinton's comments about the Trump-Putin summit dropped some major truth bombs.
While speaking at OZY festival on on July 21, Hillary Clinton discussed the recent Helsinki summit, particularly the problem that no one really knows exactly what went down during that meeting with Donald Trump and Vladimir Putin. Clinton was quick to point out she's concerned about how Trump appears to believe Putin's denials about Russian meddling in the 2016 presidential election, despite the fact that the U.S. intelligence community agrees that Russia definitely meddled. During the festival, she not only discussed the way that the White House is staying eerily quiet on the subject, but she went further and said that Trump isn't standing up for the United States, which is a definite line in the sand. She said,
The great mystery is why the president has not spoken up for our country and we saw that most clearly in this recent meeting with Putin ... This idea that somehow we are not sure where our own president stands is deeply disturbing, and the best way to deal with that is to vote in November.
In addition, Clinton noted that Trump and Putin's intimate one-on-one meeting without aides was a bit unconventional, as while heads of state will sometimes meet alone when their countries are friendly, it's seriously unusual for it to happen with the leader of a semi-antagonistic nation like Russia. The presidents might have had their respective translators with them, but Clinton pointed out that it's important to have other people there to make sure all points and discussions are fully taken down and understood. Clinton went on to claim that the nation is "hearing crickets" from the White House in regards to the summit and what was discussed during the meeting.
Trump and Putin's summit couldn't have come at a more inopportune time. On July 13, just a few days before the summit, FBI Special Counsel Robert Mueller indicted 12 Russian intelligence agents for meddling with the 2016 presidential election. Well, instead of getting to the bottom of the indictment face to face with Putin, Donald Trump actually suggested he believed the Russian president's claims that there was no meddling (which he later walked back). Even Trump's fellow Republicans aren't thrilled about Trump siding with Putin during the summit. Following the meeting on July 16, a number of GOP members took to Twitter to share their frustrations over Trump's actions during the conference. While a lot of them were tough, Arizona Republican Sen. John McCain was particularly ruthless. On July 16, McCain shared a personal statement via Twitter where he claimed that the Helsinki press conference was "one of the most disgraceful performances by an American president in memory." Ouch.
Despite the lack of transparency and total controversy surrounding the two world leader's meeting, it looks like Trump is ready for round two. According to The New York Times, Trump plans to invite Putin to Washington D.C. for an upcoming fall summit. Hopefully this face to face ordeal will be a bit more public than the previous one.
Hillary Clinton may have lost the presidential election, but clearly that won't stop her from speaking out on behalf of the American people. Never stop being you, Hillary.