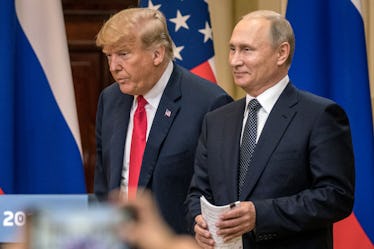 Donald Trump Plans To Invite Vladimir Putin To DC & Oh Boy
Chris McGrath/Getty Images News/Getty Images
Donald Trump and Vladimir Putin's July 16 meeting in Helsinki, Finland was truly one for the books. Not only did the two controversial leaders come face to face for a much anticipated sit down, but it occurred just a few days after FBI Special Counsel Robert Mueller indicted 12 Russian intelligence officers for allegedly meddling into the 2016 presidential election. Well, despite the immense backlash that followed the two world leaders' meeting, Donald Trump might invite Vladimir Putin to Washington D.C for an upcoming summit. Cue face palm here.
On July 19, The New York Times reported that Trump plans to invite Putin to Washington D.C for a summit in the fall. Hopefully this meeting will be a bit more transparent than the Helsinki summit, particularly because Trump's top advisers aren't even 100 percent sure what went down when the two presidents met alone with only their interpreters. The secretive summit might have already come and gone, but this Trump-Putin saga is just getting started.
White House Press Secretary Sarah Huckabee Sanders confirmed Trump's invite via Twitter on July 19, where she revealed that Donald Trump asked National Security Adviser John Bolton to invite Putin to the White House.
She wrote,
In Helsinki, @POTUS agreed to ongoing working level dialogue between the two security council staffs. President Trump asked @Ambjohnbolton to invite President Putin to Washington in the fall and those discussions are already underway.
Trump and Putin's controversial bromance has been a conversation topic since the beginning of his presidency, but this move to invite the Russian president to Washington D.C. might just be his boldest decision yet. Who knows whether this visit will come to fruition, but it's safe to say many politicians will be on edge until then.
Despite the anticipation leading up to the upcoming fall summit in D.C., there's still plenty of controversy to focus on right now. On July 13, Special Counsel Robert Mueller indicted 12 Russian intelligence officers for allegedly meddling with the 2016 presidential election and hacking the emails and computer networks of the Democratic party. However, the story doesn't stop there. Since the indictment, the United States has been seeking access to the Russian intelligence officers, but Putin has proposed that he'll only give the U.S. access if Russia is allowed to interrogate American citizens in turn. At first, Donald Trump appeared to consider the idea, but the White House eventually rejected Putin's proposal.
The thought that Vladimir Putin will meet with Donald Trump in Washington, D.C. is almost too much to handle. Even though it's not uncommon for world leaders to visit the White House, the controversy surrounding Russia's president is unprecedented, due to the fact that — even beyond the indictments — the U.S intelligence community is in consensus that Russia meddled in the 2016 presidential election and intends to meddle in the 2018 midterms. So, what can we expect from this upcoming summit? Well, one thing is for sure, there probably will be a slew of protest marches in response to the two world leader's fall meeting.
On July 15, protests in Helsinki, Finland erupted in response to the Trump-Putin summit. Finland residents swarmed Helsinki's Senate Square for a peaceful protest where they criticized both Trump and Putin's controversial policies. Well, the United States is no stranger to political protests either, and they've particularly been on the rise since Trump took office.
From the Women's March, to March For Our Lives, to the Keep Families Together marches, the American people are not ones to back down. Putin and Trump, you better prepare yourselves.