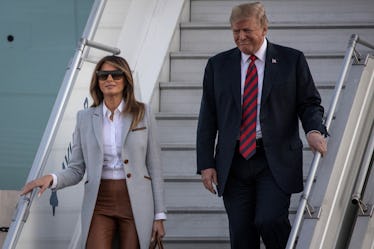 People Are Already Protesting The Trump-Putin Summit In Finland, Because Why Wait
Chris McGrath/Getty Images News/Getty Images
Donald Trump certainly hasn't had the easiest time during his international tour so far. On July 12, the United States' leader landed in the United Kingdom to kick off his two-day visit, but he didn't necessarily receive the warmest reception. Well, Donald and Melania Trump are ready for their next adventure, and the protests against the Trump-Putin summit in Helsinki are already underway.
On Sunday, July 15, Donald and Melania Trump landed in Helsinki, Finland just a day before the much anticipated summit between Trump and Russian President Vladimir Putin. On July 16, history will be made with Donald Trump's first formal summit with the Russian leader, but not everyone is thrilled about the encounter. The summit is a day away and already Helsinki residents are protesting the upcoming event through demonstrations in the streets. People ranging from concerned citizens to human rights organizations banded together for a civil protest in Helsinki's Senate Square on July 15 and brought signs, banners, flags, among other protests tools to express their displeasure at Trump's early arrival.
In addition to the upcoming summit, Helsinki residents protested a number of controversies surrounding Donald Trump's policies. Some protest signs addressed his administration's separation of immigrant children from their families at the border while others criticized his decision to leave the Paris Climate Accords agreement. Putin didn't escape criticism either, with some protesters reportedly waving rainbow flags to call out Russia's record of anti-LGBTQ+ persecution. According to Reuters, there are at least 16 demonstrations planned in Helsinki for Sunday and Monday.
Organizations like Amnesty International even took out ads in public spaces which addressed the leaders directly about human rights and free press issues in their respective countries.
At this point, it looks like a Donald Trump visit is basically synonymous with city protests. The Helsinki demonstration follows the recent protests in London on July 12, which took place once Trump landed in the U.K. for a two-day visit. Not only did the demonstrations feature an over the top Trump baby balloon, but protest crowds grew to such a big size the U.S. embassy issued a warning to Americans to "keep a low profile" during Trump's stay.
Trump and Putin's upcoming joint summit is certainly coming at an inopportune time. On July 13, FBI Special Counsel Robert Mueller's investigation into Russian election meddling indicted 12 Russian intelligence agents on charges of allegedly hacking into emails and computer networks belonging to Democratic campaign officials during the 2016 presidential election. As a result, many Democratic lawmakers asked Trump to cancel the upcoming summit with Putin, but clearly the request went unnoticed. Just before heading to Helsinki, Donald Trump shared on Twitter about the upcoming summit, and also added a few nods to the recent political drama.
The indictment was processed in the U.S. District Court in Washington, D.C where the grand jury charged all 12 defendants. According to the indictment, the hacking began in spring 2016 when the hackers allegedly worked their ways into the email servers of Democratic Congressional Campaign Committee (DCCC) and the Democratic National Committee (DNC) in order to allegedly steal documents.
Once news of the indictment surfaced, the White House released a statement pointing out that the indictment doesn't indicate that any American had knowledge of corresponding with Russian intelligence, and followed it up by claiming that's what the White House "has been saying all along." The statement read,
Today's charges include no allegations of knowing involvement by anyone on the campaign and no allegations that the alleged hacking affected the election results. This is consistent with what we have been saying all along.
The statement also noted that there was no allegation in the indictment that any American citizen committed a crime or that any American knew that they had been corresponding with Russian agents, nor was there an allegation that the alleged hack had changed the election results.
Deputy U.S. Attorney General Rod Rosenstein discussed the indictment during a press conference on July 13, where he avoided naming the Democratic National Committee or 2016 presidential nominee Hillary Clinton as the subject of hacks, and stated that no one should focus on which political party was the "victim" during the hacking. Hm.
Rosenstein said,
When we confront foreign interference in American elections, it is important for us to avoid thinking politically as Republicans or Democrats and instead to think patriotically as Americans. Our response must not depend on which side was victimized.
The recent Russian investigation has flooded media outlets and Donald Trump's twitter account for the past year. Trump has claimed over and over again that there's been "no collusion," and it appears that this political thriller is reaching its peak.
No matter where Trump goes, it looks like protests will follow. We'll just have to wait and see what this Trump-Putin summit has to offer.