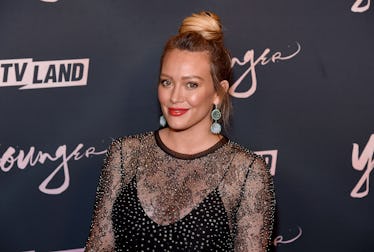 Hilary Duff Made A Smoothie With Her Placenta After Giving Birth, So Uh, There's That
Jamie McCarthy/Getty Images Entertainment/Getty Images
I'll get right to it: '90s TV star and pop queen Hilary Duff did something pretty surprising after giving birth to her adorable daughter, Banks Violet Bair. She saved her placenta after she gave birth, blended it with a few other ingredients, and then drank it. While I have to admit that this idea leaves me feeling a little squeamish, I have so much respect for the strength and beauty of childbirth that I'd never want to judge any choice that a new mother feels is right for her body. Plus, Hilary Duff's placenta smoothie, while a pretty unusual drink to most people, is not that unheard of in the world of celebrity motherhood.
In a recent appearance on a podcast called Informed Pregnancy, Duff opened up about her choice to eat her placenta after giving birth to her baby girl. And while there are a number of ways to chow down on the stuff if you really want to do so, Duff decided to opt for a smoothie version. "It was the most delightful smoothie I've ever had," she said during her interview. "I haven't had a smoothie that delightful since I was 10. It was calorie-filled with juice and fruit and everything delicious."
Aside from adding placenta to your morning smoothie, you can also cook it up for dinner, make it into a tartar, or have it dehydrated and made into pill capsules if you aren't too excited about the actual taste, according to the UK magazine Mother&Baby. The outlet says that once the placenta is prepared, "it's no different from something you'd get at the butchers, so go ahead and roast, steam, sautée or flambée – wherever the culinary winds take you."
OK, so placenta sounds surprisingly versatile, at least when it comes to how you can consume it. But what's the point of eating it? Like, what are the benefits in doing so?
"There is no proven scientific evidence that placentophagy is beneficial," Dr. Sara Swift, an OB/GYN in Green Bay, Wisconsin, told PEOPLE. "[There's] no increase in breast milk production, as it can actually have the opposite effect, and no benefit in mood, etc. — all the benefits are thought to be placebo effects."
What seems to be a trendy ritual among many celebrity moms is actually pretty controversial when it comes to scientific evidence. The American Journal of Obstetrics & Gynecology published a scientific review of the practice, explaining that 60 percent of the obstetricians and gynecologists they surveyed weren't sure whether to deem eating your placenta after birth safe or not. Moreover, the study authors wrote that "placentophagy is potentially harmful with no documented benefit," and "physicians should discourage this practice."
What's more, in 2017, the Centers for Disease Control and Prevention (CDC) released a report that said, if women are going to eat their placentas, then they should do so in a very specific way. In order to reduce the risk of contracting salmonella from your placenta (because apparently that's a legit risk), the CDC states that the organ must be heated at 130 degrees Fahrenheit for 121 minutes to be considered safe. Ingesting placenta pills also carries a risk of transferring a bacteria called GBS to your infant, according to the CDC, so the agency recommended either not taking pills containing your placenta at all, or at least doing so with close doctor supervision.
Given all of those potential risks, why are so many new moms still into eating their placenta? Well, back in 2015, Kim Kardashian West opened up about her own decision to try the trend after her son Saint was born. "I heard so many stories when I was pregnant with North of moms who never ate their placenta with their first baby and then had postpartum depression," she explained in a post on her app, according to E! News. "But then when they took the pills with their second baby, they did not suffer from depression! So I thought, why not try it? What do I have to lose?"
Kardashian West's sister, Kourtney, also claimed to be an advocate of the practice, as fans of Keeping Up With the Kardashians will remember from an episode where she tries to trick her family into eating a cooked placenta.
Bottom line: Eating your placenta after giving birth is most definitely a personal choice, and as long as you've consulted your doctor about it, and you're going about it in the safest way possible, I'm certainly not going to judge. So Hil, you do you, girl! And keep the adorable baby pictures comin', please.