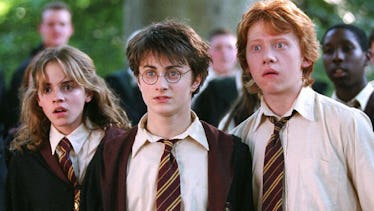 Here's Where To Stream 'Harry Potter' Now That The Freeform Marathons Are Over
Warner Bros Pictures
For years now, Freeform (née ABC Family) has been a comforting refuge for Harry Potter fans everywhere. You would be hard-pressed to find a weekend when the network wasn't airing a full Harry Potter marathon. Labor Day weekend? Harry Potter marathon. Arbor Day? Harry Potter marathon. Some random weekend in March? Harry Potter marathon. Christmas? You bet your ass there's a Harry Potter marathon on Freeform. But that's all over in 2018 — the magical saga is off Freeform, but the good news is you can now stream all eight Harry Potter movies on HBO.
Why the switchover? Well, a few months ago, NBCUniversal bought the rights to the Harry Potter movies from Disney, which just went into effect on Jan. 1, 2018. What that means is no more Harry Potter movies on Freeform or ABC, but all eight movies are now available to stream for the first time ever on HBO's services HBO Go or HBO Now. So, even though you can't turn on Freeform and plop down to a Harry Potter marathon anymore, at least you can still have your own marathon whenever you want on HBO. And another bit of good news is that even if you aren't subscribed to an HBO streaming service, you can still marathon all the newly added Harry Potter movies on HBO Now by signing up for their one-month free trial period.
In addition to the eight Harry Potter movies that dominated the '00s, HBO streaming services are also currently carrying the recent spinoff movie Fantastic Beasts and Where to Find Them and plan to add the upcoming sequel Fantastic Beasts: The Crimes of Grindelwald to its library after its release on Nov. 16, 2018.
But just because Harry Potter is only available via streaming services right now, fans of the franchise who preferred catching the magical movies on live television should not worry. Although the movies won't be airing on Disney-owned Freeform anymore, NBCUniversal does reportedly plan on keeping the tradition of Harry Potter TV marathons alive by blocking out weekends for Harry, Ron, and Hermione on its networks SyFy and USA during 2018. We might even see the movies air on NBC on special occasions, like around the holidays, for instance.
The Harry Potter saga ruled the literary and then the cinematic world from the late '90s up until 2011, when the finale of the movie series, Harry Potter and the Deathly Hallows – Part 2, landed in theaters. Although the main series is over, Harry Potter mania continues to be one of the most popular literary and film franchises in the world — which was actually partially thanks to Freeform's continual marathons of the eight movies each year, but mostly thanks to the continued world-building that creator J.K. Rowling has done in spinoff projects.
2016 kicked off a new five-part film series that serves as a prequel to the Harry Potter stories — Fantastic Beasts and Where to Find Them — and it was also the year that Rowling's sequel play Harry Potter and the Cursed Child made its theatrical debut on London's West End. Along with these major projects, Rowling has also continued to delight fans with new tidbits about the characters she created and the wizarding world at large through her interactive fan site Pottermore and her personal Twitter account. With all of this continued magic being poured into the world, it's no wonder why Harry Potter love is just as strong now as it ever was.
All eight Harry Potter movies — from Philosopher's Stone to Deathly Hollows Part 2 — are currently available to stream on HBO Now.