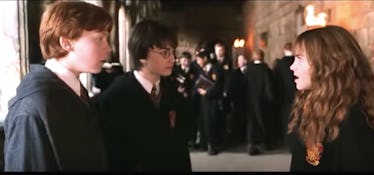 'Harry Potter' Is Coming To HBO So You Can Finally Binge Watch At Your Own Will
Having trouble coming up with a holiday wish list this year? Well, if you're willing to wait for your present until Jan. 1, 2018, then I have a great suggestion for you. Also, if you're a Potterhead, I can almost guarantee that you will love it. Get ready to add "being able to watch Harry Potter on HBO" to your wish list, and watch all you new year's dreams come true.
According to Polygon, all eight Harry Potter films are going to become available on all HBO platforms beginning Jan. 1, 2018. Yep, all of them, anytime you want them — as long as you have an HBO subscription. If you prefer to take them all in at once, you can do so beginning at 9 a.m. EST on January 1, 2018, when HBO will air the eight films in a marathon. Honestly, I can't think of a better way to recuperate from a New Year's Eve bash than to travel to Hogwarts with Harry, Ron, and Hermione, all from the comfort of your own couch, of course.
If you're into a more parceled Potter viewing, you can also enjoy the films at your leisure with your HBO subscription, since the films will be available through HBO On Demand, HBO Now, and HBO Go.
HBO had already been playing the prequel film, Fantastic Beasts and Where To Find Them. If you can make it all the way through to the end of the Harry Potter HBO marathon on Jan. 1, then you'll be able to watch Fantastic Beasts then as well, to close out your Harry Potter new year.
Now, Harry Potter movie marathons are nothing new, but their availability on HBO is definitely a welcome change. If you have grown fond of using the term "accio" in your everyday vernacular, then you're probably familiar with "Harry Potter weekends" on Freeform. Well, it turns out you won't be too familiar with them any longer because, according to Mic, when 2017 draws to a close, Freeform will also have to say goodbye to "Harry Potter weekends."
Mic reported that since NBC bought the rights to the movies, the company has an exclusive hold on them from 2018 through April 2025.
You won't have to drown your marathon-less sorrows in Butterbeer, though, since this this HBO Harry Potter news will pick up the magical slack at just the right time. Fans of the wizarding world will probably be as happy as if they caught the Golden Snitch in a Quidditch match when they learn of Harry Potter on HBO.
According to Polygon, beyond a few scattered Freeform marathons, binge-watching all the way from Harry Potter and the Sorcerer's Stone to Harry Potter and the Deathly Hallows wasn't possible unless you owned the DVDs or hit up a few Redboxes.
It seems like Harry Potter has been around forever — and for a good reason. The first movie, Harry Potter and the Sorcerer's Stone, was released 16 years ago on Nov. 4, 2001, and the final installment of the final movie, Harry Potter and the Deathly Hallows – Part 2, was released six years ago on Jul. 7, 2011. Maybe that's why it feels like it's taken so long to finally have all eight films right at your fingertips, wherever and whenever you want to watch them.
So, make sure to mark your calendars, because Jan. 1, 2018 isn't just New Year's Day this year, it's HBO Harry Potter movie marathon day. Who would've thought that your favorite day would come so early in the year?
Check out the entire Gen Why series and other videos on Facebook and the Bustle app across Apple TV, Roku, and Amazon Fire TV.