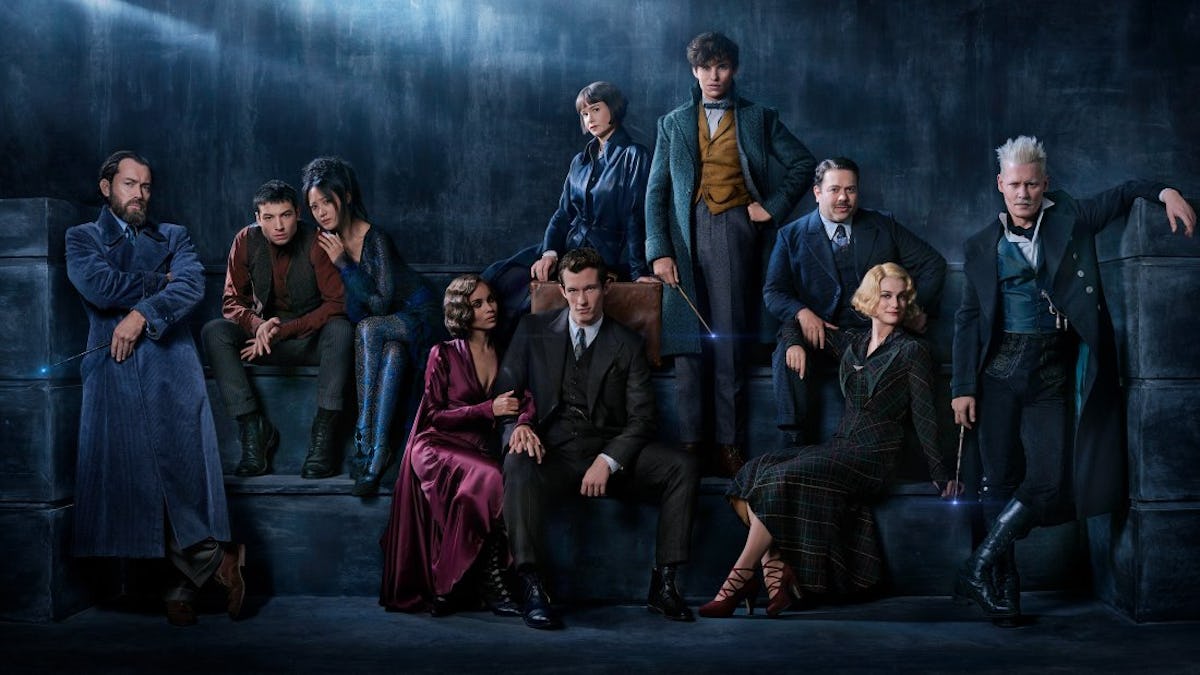 These New 'Fantastic Beasts' Photos Give Us More Details About The Sequel
Warner Brothers
With 2018 on the horizon, there are films we're looking forward to arriving with the new year. With Game of Thrones taking 2018 off, and Star Wars delivering their 2018 movie standalone in May instead of December, the holidays next year are going to belong to Harry Potter and the Wizarding World, with the arrival of Fantastic Beasts 2. And these new Fantastic Beasts: Crimes of Grindelwald photos are only upping the excitement.
The focus of the new film is in the introduction of two very important characters: the young Albus Dumbledore (played by Jude Law) and his nemesis, Gellert Grindelwald (played, unfortunately, by Johnny Depp). These two will be setting up for their showdown to come much later in the series. There's also other new characters who will be introduced, like Newt Scamander's brother, Theseus, and his fiancée.
But the characters fans care about most are the ones we met in the first movie in 2016. Not just Newt Scamander, though of course fans can't wait to catch up with him on the book tour. But there's also the Goldstein sisters, Tina and Queenie, and of course Jacob Kowalski, the New York no-maj who stumbled into their world and fell for Queenie like a stone. And Credence Barebone (Ezra Miller), who we thought after his reveal as an Obscurus that we might never see again.
And that's just what fans got a glimpse of on Dec. 28, as both Empire and Total Film each released a brand new image from the upcoming movie.
Let's start with this one of Newt (Eddie Redmayne) and Tina (Katherine Waterston), and the fabulous gold-plated mailboxes they seem to be standing in front of. The two of them look to be sneaking around together again, which they did so well back in New York City. But what brings Tina to Paris? And why do they look so apprehensive?
According to the article, we won't find answers to that in the print edition of the magazine, but we will get introductions to all the newbies, including:
Jude Law's Albus Percival Wulfric Brian Dumbledore; Johnny Depp's Gellert Grindelwald; Callum Turner's Theseus Scamander; Zoë Kravitz's Leta Lestrange; and Claudia Kim's mysterious Snake Girl.
Total Films' photo was actually released first by their sister site GamesRadar, who was excited to present that someone else has made their way to the City of Lights, and probably didn't get to use the floo network to travel there, either.
The photo in question shows returning magizoologist Newt Scamander (played once again by Eddie Redmayne) alongside trusted Muggle companion Jacob Kowalski (Dan Fogler), striding across the streets of what appears to be 1920s' Paris (check out the french language signage and bicycle baskets).
Before we wonder what Jacob and Newt are up to, let's note the bucket that's tucked away under Jacob's arm as he follows Newt. That's the sort of bucket you might expect a zookeeper to carry around. Let's remember that, despite this being Newt's worldwide book tour to promote Fantastic Beasts and Where To Find Them. Chances are he, once again, took his not-always-muggle-worthy suitcase.
France in the 1920s was not anywhere near the anti-magical atmosphere of the United States. One can bet that their magical government would be just as displeased should a few XXXXX-level creatures get loose in their city. If Newt accidentally left his case ajar (even if it was just a smidge) and one of his creatures got loose, one could imagine that Jacob would grab a bucket and the two of them would head out hunting to round up his beasts, just like old times.
Fantastic Beasts 2: The Crimes of Grindelwald will arrive in theaters on Nov. 16, 2018.