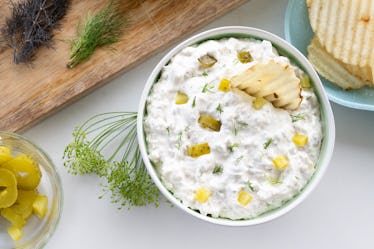 Sam's Club Is Carrying A Fried Pickles & Ranch Dip That Every Pickle Lover Needs To Try
Courtesy of Sam's Club
Get ready to spice up snack time with a new product that's a total must-try for pickle lovers. Inspired by a Southern classic, Sam's Club is selling a dip featuring the zesty flavors of fried pickles and ranch seasoning. If you'd like to get your hands on the tangy new pairing, here's where to get Sam's Club's Fried Pickles and Ranch Dip.
The Taste of the South Fried Pickles & Buttermilk Ranch Dip is a creamy blend of whipped cream cheese and sour cream, and it features plenty of crunchy dill pickles and zesty ranch seasoning. According to its product description, the dip goes great along with your favorite chips or veggies, and it can be served hot or right out of the refrigerator. If you want to go beyond the appetizer table, you could also use it as a topper for a burger or sandwich.
Now that you know all the ways you can enjoy the dip, you'll be glad to know Sam's Club expanded its availability. When it first launched in August, the Taste of the South Fried Pickles & Buttermilk Ranch Dip was exclusive to clubs in select states, but as of late September, it's available in all clubs nationwide. To find the Sam's Club nearest you, use the store locator.
A 24-ounce tub of the dip costs $4.98, and it will be available until Nov. 6. After that, it will still be in 450 select clubs through the holiday season, so you may want to stock up.
When you head to the store to get your items, follow the coronavirus safety recommendations from the Centers for Disease Control and Prevention (CDC) as of Sept. 11. You should limit errands and exposure to others as much as possible. Also, remember to wear a mask, maintain social distancing from other shoppers, and wash your hands when you're done handling your groceries.
If you think you're showing symptoms of coronavirus, which include fever, shortness of breath, and cough, call your doctor before going to get tested. If you're anxious about the virus's spread in your community, visit the CDC for up-to-date information and resources, or seek out mental health support. You can find all Elite Daily's coverage of coronavirus here.
This article was originally published on