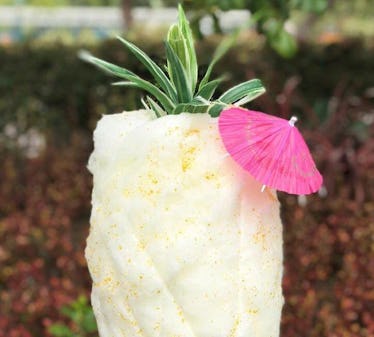 You Can Get Cotton Candy That's Shaped Like A Pineapple In Disney & It's Cute AF
Whether you're a Disney fanatic or only keep up with the delicious treat offerings from the theme park, new Disney foods are always fun to discover. This summer, Disney is offering a fruity twist on cotton candy that will make you want to book that summer vacation to Disneyland ASAP. Here's where to get Pineapple Cotton Candy in Disney, so you can get your hands on the most Insta-worthy treat of the summer.
This fun take on a summer classic not only tastes amazing, but it will make your Instagram feed the envy of all your followers. The tropical iteration of the usually pink sweet is available at Disneyland in Anaheim, California at Downtown Disney's Cotton Candy Creations, per Cosmopolitan. The Pineapple Cotton Candy Creation looks like a giant, fluffy pineapple, and it sounds like it will be exactly the sweet pick-me-up you need during a long day at the theme park.
According to Josh Pickering, General Manager of Working To Give's Downtown Disney Division, the Pineapple Cotton Candy starts out by spinning the pineapple-flavored cotton candy onto the cone. Then, it's shaped by hand to resemble a pineapple, with a bamboo skewer used to "create the diamond grid on the pineapple." Finally, it's dusted with edible gold and topped with colorful drink umbrella to fully give you a pineapple vibe that is perfect for your Instagram Story.
The Pineapple Cotton Candy practically screams "summer," and you'll totally want one during your day at Disney (even if it's only to take advantage of the do-it-for-the-'Gram opportunity).
I'm sure the pineapple flavor and sparkling tower of spun sugar are probably reason enough for you to snag a Pineapple Cotton Candy Creation while visiting Disneyland this summer, but Pickering shared another tidbit about Cotton Candy Creations that will make you feel even better about your pineapple-flavored purchase.
Per Pickering, Cotton Candy Creations is owned by Working To Give, which is a for-profit organization that operates on the 50/50 principle. Companies like Cotton Candy Creations that operate under Working To Give put half of the profits back into the business, and the other 50 percent is donated to charity.
When you pick up a Pineapple Cotton Candy Creation, you know your purchase will also help charities and non-profit organizations, per the Working To Give Website. So, you can satisfy your sweet tooth while also doing some good — talk about a tasty win-win situation.
Once you try the Pineapple Cotton Candy Creation, you might find yourself craving all things pineapple. Luckily, Disneyland has got you covered when it comes to a fruity sweet treat. The theme park also recently released a Pineapple Churro that you can pick up at the churro cart on Main Street USA. The tropical twist on the sugar-covered dessert sounds like it will be the perfect complement to your Pineapple Cotton Candy.
Of course, while your mind is on all things pineapple, you can't forget about the OG of Disney's tropically-flavored treats: Dole Whip. Disney's Dole Whip is the pineapple flavored soft-serve that the theme park is so well-known for, and I must say I am pretty pumped to hear that Disney is expanding the pineapple flavor to other sweets. The promise of the ability to indulge in a trio of Pineapple Cotton Candy, Pineapple Churros, and a serving of Dole Whip is almost enough for me to book a plane ticket to California and try all these sweets for myself.
If you want another fruity variation of Dole Whip, you can also check out the new Lemon Dole Whip from The Adorable Snowman Frosted Treats located on the Pixar Pier in Disneyland Resort's Disney California Adventure park.
There is no shortage of sweet treats available at Disney this summer, so you're sure to satisfy your sugar cravings with whatever you choose. Plus, if you happen to be a pineapple super-fan, there is no better time than now to get to Disneyland for all the tropical treats you can handle.