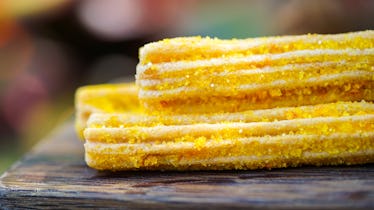 Disneyland Is Selling Pineapple Churros That You Can Dip In Marshmallow Sauce
Disneyland
Not only is Disney full of magical rides and enchanting characters, but it's also home to a slew of spellbinding snacks. In its latest unique creation, Disney whipped up a Pineapple Churro — and you can add a side of marshmallow dipping sauce to make this the ultimate summer snack. Oh my. If you are dreaming of the sweet tropical treat, here's where to get Disneyland's Pineapple Churro this summer.
That's right, Disney has knocked it out of the park with their latest summertime sweet: the Pineapple Churro. So where can you get your hands (and mouth) on one of these delicious (and pretty) Pineapple Churros? According to Disneyland Today, the official in-park Twitter account for Disneyland, the sweet snack is currently only available at the Anaheim, California theme park. Planning a visit to the park this summer? You'll need to know exactly where to find the Pineapple Churro once you arrive. To get one, you can stop by the churro cart on Main Street USA, which is located directly in front of Sleeping Beauty's castle, according to WDW News Today. I'll meet you there. Sadly, the Pineapple Churro is not available at Walt Disney World in Orlando, Florida.
The Pineapple Churro, which costs $5.25, is dusted with tiny crystals of cinnamon and sugar that give it a sparkly shine that only Disney could pull off — and you are going to need to try it right away. This delectable dessert will transport you to a tropical paradise that's as magical (OK, almost as magical) as Sleeping Beauty's Castle itself. As if the Pineapple Churro was not enough to satisfy your summertime cravings, Disneyland is serving it up with a side of marshmallow dipping sauce. Say what? While the dipping sauce does not come free with your purchase, it is definitely worth the extra $1, because marshmallows really take this fruity and fried strip of dough to the next level. Just look at it in all of its glory, shimmering in the sunlight. I'm pretty sure the Pineapple Churro was made just for social media pictures.
It is no secret that Disney is known for its tasty pineapple-flavored desserts. Disney's Dole Whip is a cult favorite amongst visitors, and Twitter users are already comparing the taste of the Pineapple Churro to the beloved pineapple ice cream treat. Could it really be true? Does the Pineapple Churro taste like the Dole Whip? I'm already scanning for flights to California, because this calls for a taste test of my own.
Other Twitter users are taking it a step further and creating a Pineapple Churro Dole Whip mashup of their own. Now this is a genius idea that I can get behind. Go on and live your best life.
So many people flock to Disneyland each year to enjoy all that the park has to offer, and truth be told, they do serve more than just pineapple desserts. The theme park also has a handful of millennial pink treats like cake pops, cupcakes, chocolate, and more for guests to enjoy. Next time you're visiting the park, check out their mobile ordering tool to get your snacks even faster.
If you, while reading this, have not already phoned a friend to start planning your trip to Disneyland California this summer, you better get on it now, because Disney insiders predict the lines will be long for this treat. Not that this one isn't worth waiting for, but the sooner you get there, the better — because one of these Pineapple Churros probably isn't enough. If you're anything like me, you'll be headed back for seconds in no time.