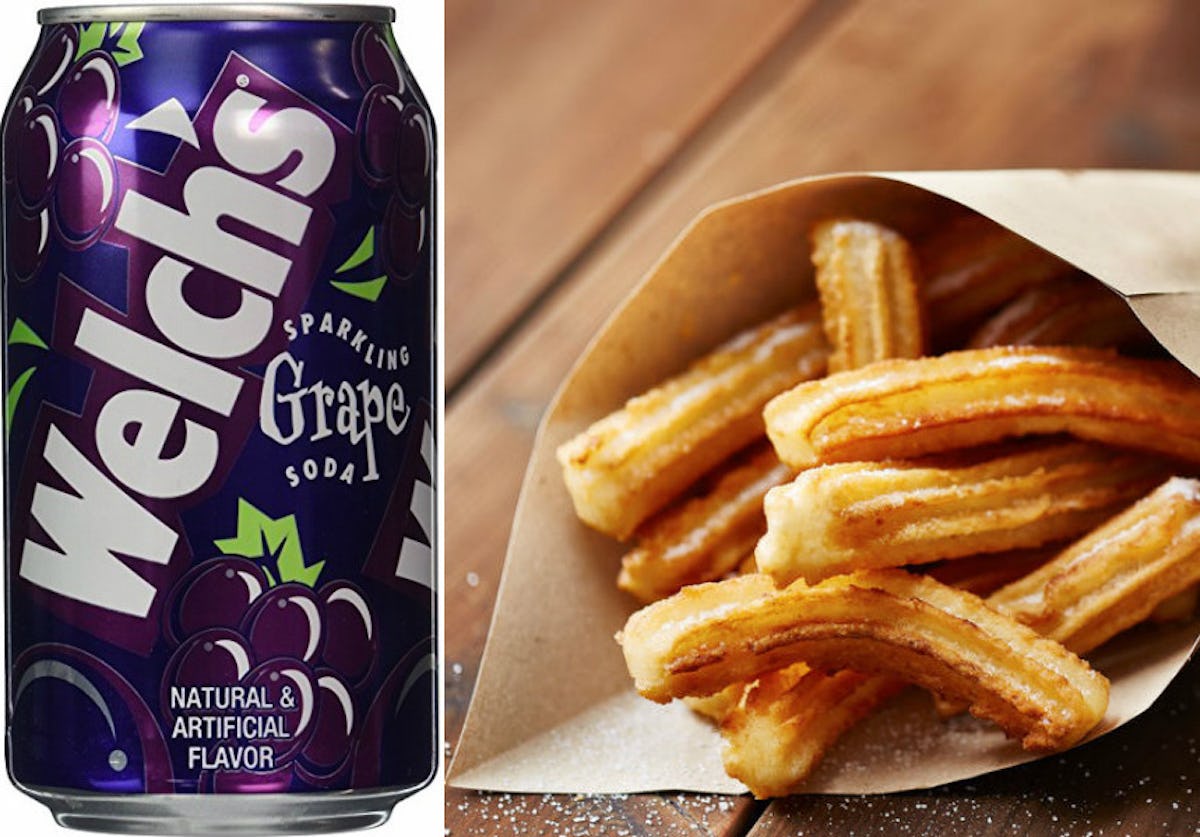 This Disney Theme Park Is Serving Grape Soda Churros For A Throwback Dessert
It's no secret that Disney has got the theme-park food game down to an art. Whether they're passing out pineapple cotton candy, some millennial pink milkshakes, or a unicorn Mickey cupcake, there's no shortage of delectable and totally magical treats. That being said, they've totally outdone themselves with their latest nostalgia-inducing treat, which is bringing me back to my childhood in the best way. Trust me, you're definitely going to want to know where to get grape soda churros in Disneyland the next time you're there, because it's definitely going to bring out your inner kid.
I think any child of the '90s can remember sipping the popular fizzy drink (it was my go-to choice at friends' birthday parties), and I was so pumped to find out that Disneyland — being the magical place it is — has recreated the beverage in churro form. While they've previously rolled out a handful of fun twists on the ultimate cinnamon and sugar coated snack (the rose gold churros are millennial goals, TBH), this might be my favorite one thus far. Not only is it a totally unexpected combination, but I had literally no idea what to expect from the churro. After all, everyone knows that grape soda doesn't taste anything like actual grapes, and I was curious to see how Disney had paid homage to the elementary school treat.
Although, combining pretty much anything with a churro is bound to be a hit.
I headed to Instagram to check out tasters' verdicts, which turned out to be pretty positive, despite the fact that the grape soda churro looked, well, just like any other churro. Instagram blogger The Disney Planner Mom commented:
It was pretty good, exactly what you would expect a grape soda churro to taste like. Only disappointing thing is that it wasn't purple!
She revealed that she'd scored the new treat at downtown Disney's California Churro Cart, which is good news for people who don't want to have to pay for a park ticket to try it.
Meanwhile, user Flying Roxy called the new treat "so yummy" while Paws 2012 noticed, "Mm this grape soda churro has such a unique twist to its taste in the end!"
As all users shared that they'd purchased the cinnamon and sugar fried deliciousness from Downtown Disney, it's unclear if the grape soda churro is currently offered in other parts of the park just yet. However, according to PopSugar, the churro will set you back just $5, so it's definitely worth heading over to Downtown Disney to sample one (or five) of the nostalgia-inducing treats.
According to PopSugar, watermelon and Fruity Pebble churros are also a thing now at Disneyland Park, so you can get double the dose of nostalgia during your trip to the churro chart. Plus, Disney's new pineapple flavored churro, which is served with a gooey marshmallow dipping sauce for just $5.25, is bound to make you feel like you're living your best life on a Hawaiian getaway. I'm just saying, Disney is really killing their summertime churro offerings this year.
Unfortunately, the new grape soda churro only appears to be available at the Happiest Place on Earth, aka the Anaheim, California Disney park, so you're out of luck if you happen to be visiting Walt Disney World in Orlando, Florida. That being said, it might be worth the trip west, because Disney's latest spin on the theme park classic is bringing me back to my childhood in the best way possible. It's just one more way that Disneyland is exercising its magical ability to bring out your inner kid, and I'm so here for it.