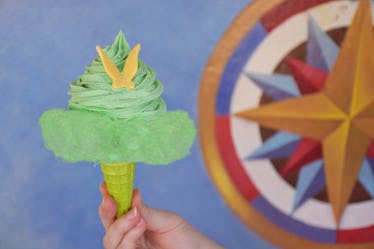 Disney's Tinker Bell Ice Cream Cone Sprinkled With Gold Glitter Is So 'Gram-Worthy
Courtesy of Disney Parks
If you're still struggling through Halloween candy withdrawals, the Magic Kingdom is making the park's overnight Christmas transformation a little easier with a brand new offering that'll appeal to your inner child and your sweet tooth. To try it, all you need is faith, trust, and a little bit of pixie dust, because Disney World's new Tink's Pixie-Dusted Cone — which flew into the park in November — might just be the most photogenic confection I've ever seen. Here's where to get Disney's Tinker Bell ice cream cone in the park, because your tastebuds will definitely want to take this gold glitter-covered ride to Neverland. Just remember to take a photo before you bite in, because this magical treat is more than guaranteed to add some serious sparkle to your 'Gram.
Visitors at the Orlando, Florida park can dig into Disney's latest offering by following the second star to the right and heading straight to Storybook Treats in Fantasyland. Following on the heels of Disney's two previous confections boasting swirls of the fan-favorite citrus-infused dole whip at their base (the Peter Pan Float and the limited-edition Maleficent Soft Serve Cone, to be exact), Tink's Pixie-Dusted Cone promises all the limey deliciousness that you could want from a cone of soft serve ice cream. Per a review from blogger Disney Food Blog, visitors who order one of these $5.29 treats can expect a green-colored cone holding layers of lime-flavored dole whip, all balanced on a cloud of lime green cotton candy. The taste of the green cotton candy is reportedly less pronounced than the soft serve itself, with the blogger comparing the flavor to "mild lime or apple."
The tartness of the lime green dessert is countered with white chocolate wings and a generous dusting of twinkling pixie dust (or edible gold glitter) that'll help you fly around the park's various rides and attractions. If you've enjoyed any of Disney's other lime dole whip treats, it's likely you'll enjoy both the tangy taste — and the undeniable Instagram appeal — of the iridescent dessert.
Visitors are already taking to the social media platform to share photos of the impossibly photogenic treat, which made its way into the Magic Kingdom right after the Halloween-centric Maleficent Soft Serve cone made its exit on Nov. 1. Considering that Tinkerbell and Peter Pan were pretty much inseparable during their adventures around Neverland, I could see the new pixie-dusted swirl pairing well with Peter Pan's Float, which first debuted in the park in July. Per the menu, the float reportedly consists of Key Lime ice cream, Sprite, and a chocolate feather, which makes it the perfect choice if you're looking to treat yourself to lime everything.
As of now, there is no specific end date for the availability of Tink's Pixie-Dusted Cone, per Disney, but I'd suggest giving it a whirl while you wait for Disney World to roll out its highly-anticipated lineup of holiday goodies. If the park's totally spooktacular Halloween options are any indication, I have a feeling that Mickey and his crew are going to outdo themselves this year.