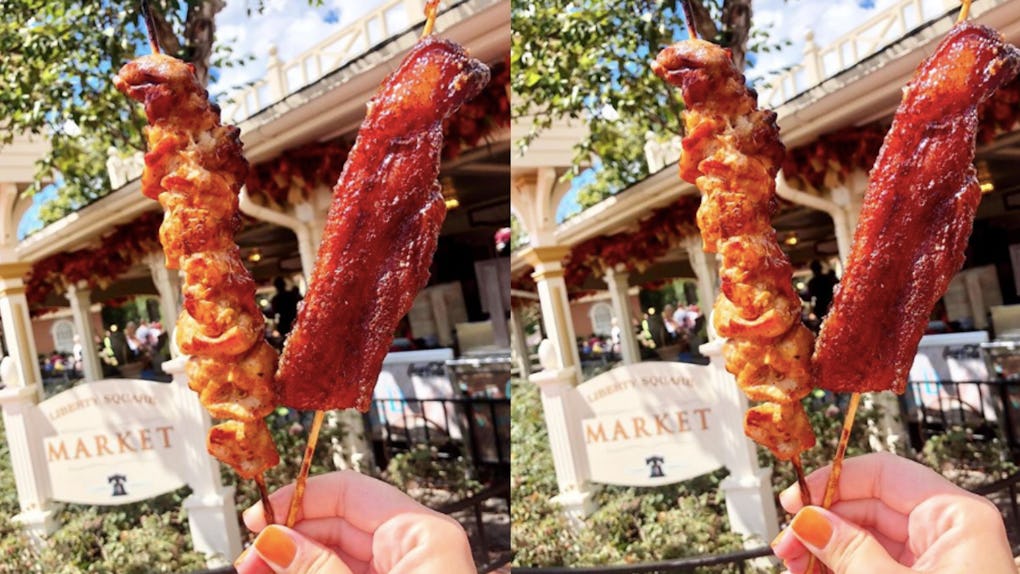 Disney Food Blog
Here's Where To Get Disney's Candied Bacon Skewer For A Sweet & Savory Snack
There's nothing quite like the sizzling smell of salty bacon to wake up your taste buds. You may associate bacon with breakfast, but Disney is putting a whole new spin on the salty treat. Instead of eating it alongside a plate of eggs and pancakes, you can now enjoy it on a stick on your next visit to Disney. Here's where to get Disney's candied bacon skewer for a sweet and savory snack.
Disney is pretty well known for its array of innovative and amazing foods. I mean, where else can you get this gorgeous mermaid cupcake or pineapple cotton candy? Nowhere else but the most magical place on earth. The candied bacon skewer is another gem of a food item that Disney is offering right now. Candied bacon on a stick? Yes, please.
Sadly, this sweet and salty treat is not available at every Disney park. If you want to snack on this treat you will need to make your way to the Magic Kingdom in Orlando, Florida, according to Disney Food Blog.
Upon entering the park, make your way back to the left side where you'll find the Haunted Mansion ride. You'll probably be able to smell the bacon from there. If your nose isn't good enough to help you smell it out, let me help you. You can get your very own candied bacon skewer at the Liberty Square Market, just around the corner from the Haunted Mansion ride, according to Disney Food Blog. The candied bacon skewer costs $7.99, which is pretty on par with other theme park food prices. Oh, and just to make it clear, you get one piece of bacon per skewer.
This isn't just your average piece of bacon, though. It looks like a fairly thick strip of bacon (as much as one skewer can hold) and is long enough that it almost takes up the entire stick. According to Disney Food Blog, the bacon appears to be nice and crispy on the outside, but the slab is tender and juicy the whole way through. I haven't tried it yet, but I'm going to go out on a limb and say the candied bacon skewer may just be the best piece of bacon ever. Bacon is traditionally very salty. That's what I love about it. When you add in a little sweetness to balance it all out, you've got a well-rounded treat.
The candied bacon skewer is being sold alongside its sibling, the chicken skewer. According to Disney Food Blog, the chicken skewer is marinated in a sweet and spicy sauce. This one is slightly cheaper and can be purchased for $6.99. Both appear to be fairly comparable in size, but if I'm choosing between the two it's going to be the candied bacon skewer every time.
If you are planning a trip to the Magic Kingdom anytime soon, make sure to put the candied bacon skewer on your foodie bucket list. Of course, there are many other tasty and seasonal treats to try while you are there. None quite as promising as the candied bacon skewer, though.