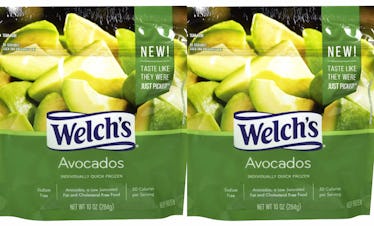 Here's Where You Can Buy Welch's Frozen Avocados To Make Guac Even Easier
If you're a fan of avocado, then you've likely been taken with the recent news that frozen chunks of the stuff are now readily available for all your avo needs. None other than Welch's is the brand behind this awesome avocado news, and you probably want to get your hand on a bag or two of this game-changing product. To help you with that, I'll let you in on where to buy Welch's frozen avocados to help make your next meal prep session the easiest one yet.
When it comes to purchasing these bad boys, the good news is that there is a list of 59 retailers that sell Welch's frozen products, including the glorious avocado. Before I get to where exactly you can pick up this affordable bag of frozen goodness, you might want to know exactly what you are getting. According to the Welch's website, the packages are filled with "ripe-frozen" avocados that are broken down into "hand-chunks," which the brand's website notes makes this product easy to use in a variety of dishes. I don't know about you, but my first thought is all about the guac.
You can pretty much make whatever your avo-loving heart desires when you buy the 10-ounce or 32-ounce bag of the frozen avocado.
OK, now that you know what to do with your Welch's frozen avocado, let's get back to where exactly you can find the good stuff. While it is listed for purchase online at Amazon and on the Walmart website, the bags of Welch's frozen avocado are currently sold out on both websites as of Friday, Oct 12. Elite Daily reached out to Welch's for comment on when the frozen avocado will be restocked on Amazon and Walmart.com, but did not hear back at the time of publication.
Don't fret, though, because if you're willing to trek inside an actual store, you can still get your avocado fix. Meijer is listed as one of the Welch's retailers, and the frozen avocado is listed on the Meijer website as "available in-store only." I called my local Meijer location right outside of Chicago, Illinois, and the Welch's frozen avocado was available for purchase there in the frozen section as of publishing. So, if you have a Meijer near you, it might be a good to put a trip there on your to-do list, if you're interested in convenient and affordable frozen avocado, that is.
So, how much cash will you have to shell out for the most convenient way to buy avocado, like.. ever? Like most frozen counterparts of fresh fruits and vegetables, the big bag of the frozen stuff tends to be easier on the wallet. As of publication, Meijer is selling Welch's Frozen Avocado in stores for a sale price of $3.50 for a 10-ounce bag. The regular price is $4.39, which is still a pretty good deal for nine 1/4-cup servings in one 10-ounce bag, per the nutrition label on the Walmart website.
Ever since the avocado began to rise in popularity thanks in large part to the tasty AF avocado toast trend, per The Washington Post, people have been on the lookout for the next best way to get their avocado fix. From "light" avocados with fewer calories to simply adding avo to other already amazing dishes, like with Panera's "Build Your Own Mac" bar, where you can add avocado chunks to creamy mac & cheese.
Now, you can make sure that you always have the ever-popular avocado on hand, when you pick up a few packages of Welch's frozen version of the stuff. All you need to do is put in a little effort to actually walk into a store, and then you can get your hands on all the frozen avo goodness you can handle. Dreams really do come true, you guys.